The Trends That Matter: Exploring the Health & Wellness Sector
It's a sector that is expected to continue booming despite the economic uncertainty in 2023; McKinsey states that the health and wellness market has grown 5-10% each year, with consumers increasingly looking to improve health, fitness, nutrition, appearance, sleep and mindfulness. 
We've taken a deep dive into this sector in the UK, looking across 30 brands dominating the space and hundreds of core keywords. We've analysed what it takes to be visible organically in this market, and importantly – what consumer trends we're seeing that can be leveraged to beat the competition and reach more customers. 
Who own the health & wellness space in the UK?
Unsurprisingly, Holland & Barrett dominate the sector with everything to do with health supplements and vitamins, outranking speciality brands in each area of health and wellness. When they perform, they perform well – 93% of the time they ranked on the first page.  
So, why are they ranking so well? Well, not only are they a substantiative brand, giving them additional leverage in the sector, they have a thorough health hub with plenty of information. Their articles are authored by named experts and interlinked with products, articles with more information, and category pages.  
They also have a clear structure to their category pages; while these could be improved in some areas, namely by avoiding hiding all the content at the bottom, there are enough positives to outweigh the negatives. 
Can you compete?
If you do a niche well, you have a strong chance of matching up against Holland & Barrett – Protein Works don't outrank them but have a very solid second showing in the supplements market.  
They could take a lesson in content marketing from Holland & Barrett, though; they appear to have had a hiatus from August 2022 to January 2023 in their articles section and their featured posts haven't been updated since 2021.  
Moreover, this is just laid out like a simple blog, whereas Holland & Barrett's health hub is far more substantiative in both content and layout. Well interlinked, strong supplemental content building up trust in your brand and expertise is helpful for both users and search engines. 
Powerhouse Fitness also appears to be punching above its weight, with a smaller brand and link profile than Fitness Superstore yet the same number of terms on page 1 from our review.  
This site's performance is a bit less straightforward; it has an unusually flat structure in its URLs for an ecommerce site, with no clear folder structure. Whether this is a drawback or an advantage to SEO performance has historically been unclear. Many SEOs would presume this could confuse Google, preventing the search engine from understanding a site's hierarchy, while others would think these shorter URLs advantageous as Google would assign a higher priority to every page on the site.  
To counteract potential drawbacks, Powerhouse Fitness has a very clear breadcrumb structure, visible on each page. This site's performance demonstrates that considering all the technical advantages you can employ is well worth your while, as they've covered both angles here.  
Powerhouse Fitness also could still be doing more to boost their visibility, however; their spotty title tags and uneven content provision on category pages could be holding them back from performing at their best and surpassing the other brands in the list. Again – leaving space open for potential competitors to steal a march on some of these key terms. 
CBD is an emerging market
CBD companies have little visibility and don't even dominate for their niche. Of the 3 we reviewed, none had more than 5 page 1 rankings, and all had less than 1,000 branded searches per month. There are a lot of opportunities to pull ahead in this space: 
The most searched term, "cbd oil", is a mixed SERP (search engine ranking page) as this is an emerging market; there are sponsored ads, a People Also Ask box, and a Wikipedia article, indicating that Google understands the mixed goals of these searchers and can serve up both shopping and informational content. A site that presents strengths in both areas has the best opportunity to succeed.

 

There's also a good chance to pull ahead from a referring domain point of view – none of the niche CBD sites have anywhere near an impressive backlink profile. 

 
If CBD searches remain informational and shopping sites find it difficult to break past the NHS and other authoritative ranking sites (though if Holland & Barrett can do it, a specialist site should absolutely have this as a goal), paid shopping results are a useful way to get in front of customers before rankings and brand recognition strengthen.

 
Has Covid permanently shifted our workout habits?
It's not just a January rush to the gym – aspiring fitness gurus seek out exercise equipment for the home as well at the start of every new year, a much more pronounced trend every year since Covid hit.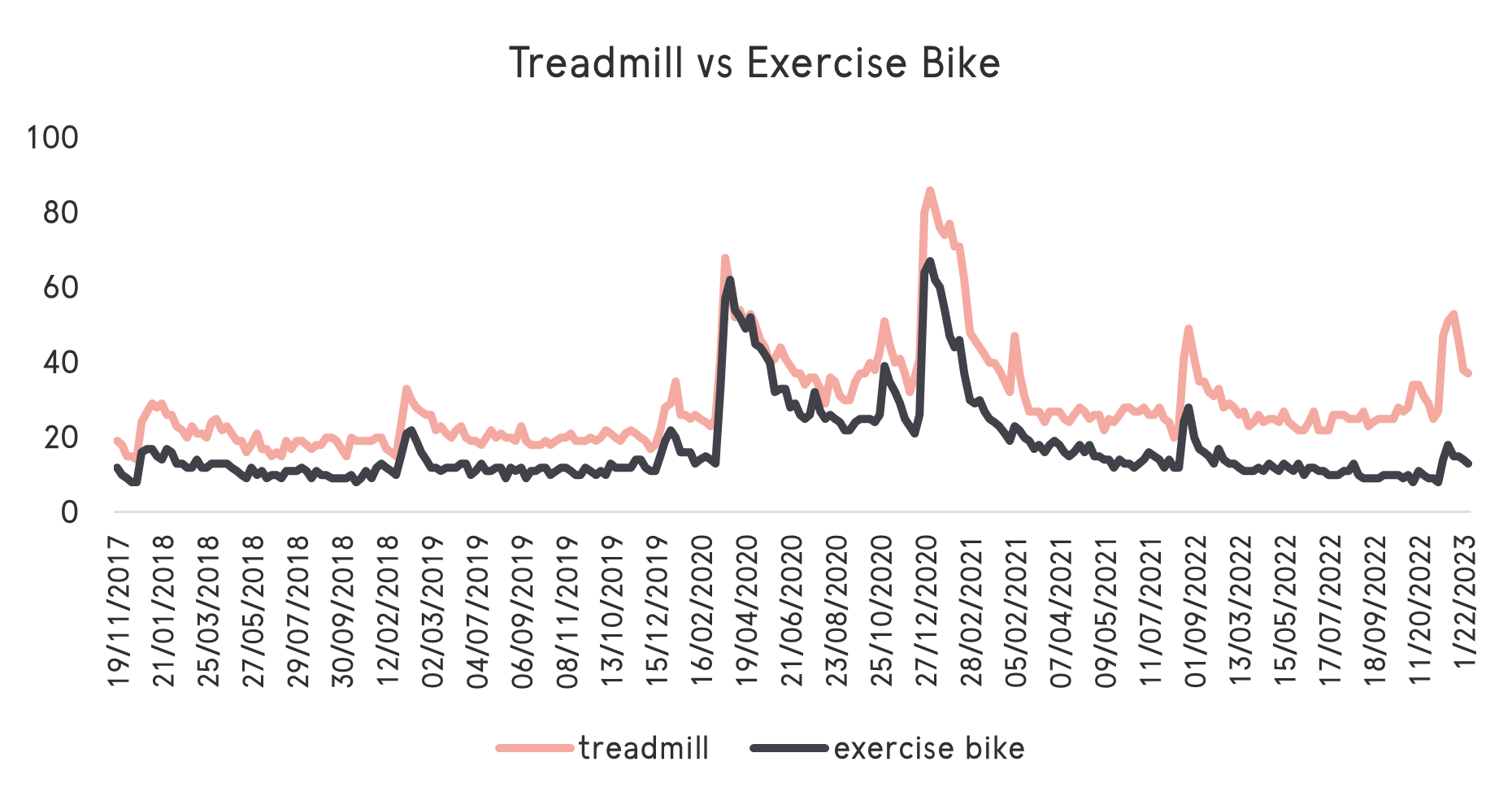 Seasonality has returned to peak in January, but 2022 and 2023 both saw bigger peaks than in previous years. This indicates that a full-scale return to the gym hasn't yet happened, and people are still preferring to work out in their homes. Fitness retailers should take note; home equipment sees this seasonal peak now and should be targeted in January, as well as improved throughout the rest of the year. 
Although "treadmill" is a broad term, UK brands are not taking advantage of this SERP either. Two leading PAA boxes have content from India and the United States, respectively; hardly as useful as a British answer to this question would be.  
Fitness Superstore, who rank reasonably well, answer a lot of these questions at the bottom of their page, but this is difficult to digest and find at the bottom of their product page. Some of this content would be better as an expert guide, framed as answering their users' questions; they could increase their SERP real estate by going into more depth onsite. 
Key action: Prepare for seasonality in the home workout market, too, in line with the "New Year New You" trend; capitalise on SERP opportunities in the lead-up to Jan 2024. 
Bear men in mind for sports leisure
Men's sports clothing has far higher search volume than women's – possibly due to men wearing sports items as casual clothing. Even "mens trainers" has a higher search volume than the generic "trainers", applying to both men and women.  
Depending on the type of specialist clothing your brand offers, you may want to consider pitching your content towards a leisure wearer as well as an active gym user, but of course this will be heavily dependent on your audience. Athleisure shows no sign of slowing down any time soon both at home and on the go. 
Fitness gurus know what they are looking for
A massive segment of the health & wellness sector is the vitamins & supplements market. With a recent, significant focus on fitness, as we see above regarding treadmills & working out at home, search volume around protein powders has boomed and continues again to remain at a higher level than pre-Covid: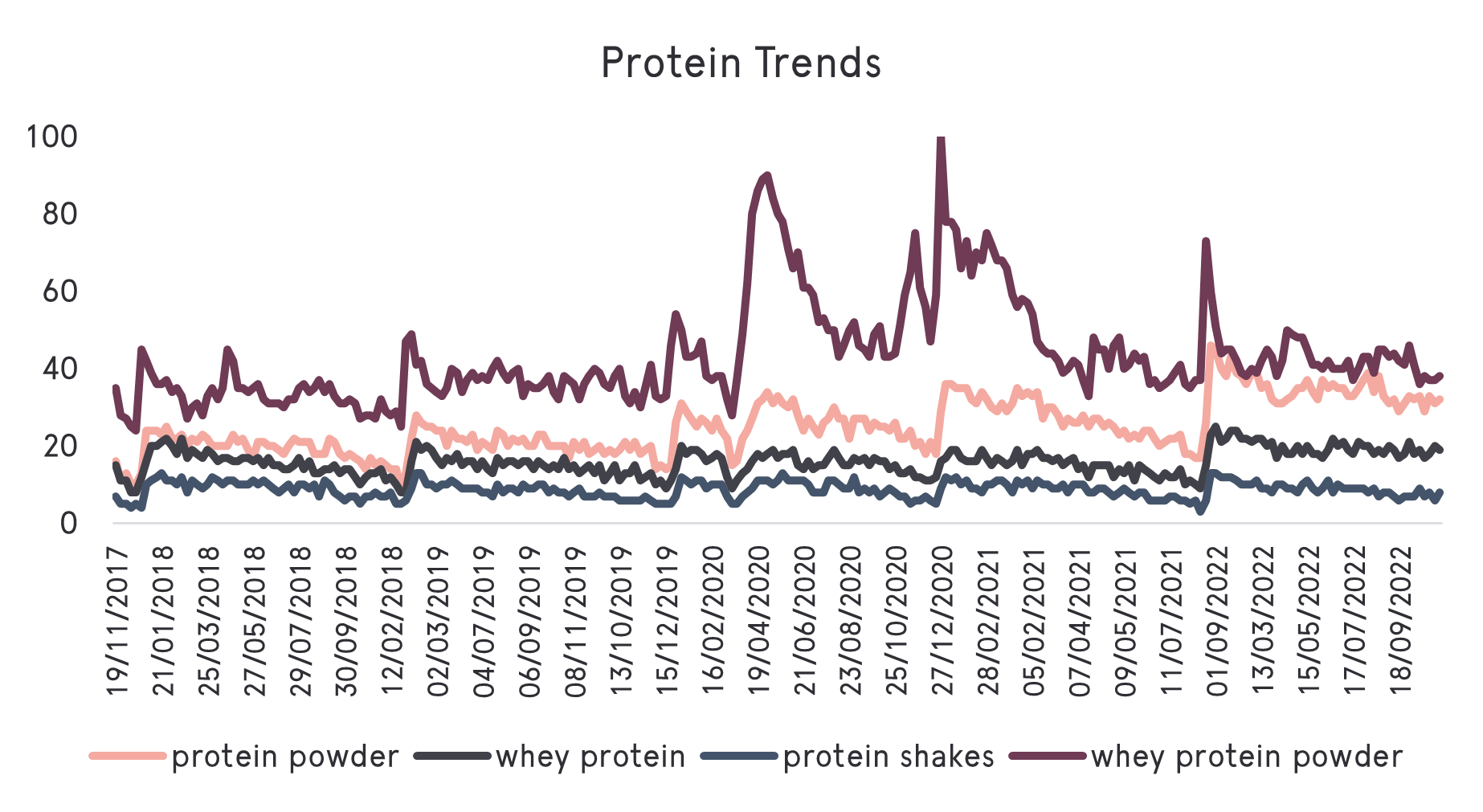 While this might be due to the general higher level of ecommerce purchases, as many high streets have not quite recovered from the effects of lockdowns, it's reassuring for ecommerce brands that interest in purchasing these products online remains higher.  
Notably, there is more volume and interest around "powder" than ready-made shakes, though these SERPs are almost identical; the fact that a more specific search term in "whey protein powder" has the most interest indicates that many searches are looking for a specific type of supplement. The highest-ranking brands include a specialist page which performs for this term as well as the more generic "protein powder" and "protein shakes" – catering specifically to the specialist, as well as the generalist just starting to research this topic. 
While this approach appears to work in this sector, it's always worth considering whether those extra pages are necessary; creating pages to capture single search terms isn't always wise as it has the potential to dilute your messaging and site structure. Review the SERP to see whether specialist content is needed, with a strong consideration for whether you have enough to add on that area, and enough product to service it for an ecommerce brand, before creating new pages. 
What to action now to dominate the health & wellness market
 Prioritise content:

Take a leaf from Holland & Barrett's book – this is a sector which is heavily researched and users want to trust the advice they're reading. Help your brand become an authority in the space by positioning yourselves as the experts you are. Can you introduce a content hub, guides, or videos? What's achievable for your team? Ensure these are well linked to relevant products and the content is easily found on the journey your users would be taking to explore that product. Additionally, raise brand awareness by taking your expertise to the publications your audience will be reading; introduce a strategy to be included in expert commentary opportunities around relevant and trending topics.

 

 Capitalise on relevant trends:

This is a market which is continuously evolving and can be heavily influenced by wider socio-economic trends, so use a variety of data points – the keyword landscape, Google trends, audience research, third-party sector research – to continually assess upcoming demand to put your brand front and centre.

 

 Don't lose sight of your user journey:

User journeys are often heavily considered at the point of redesigning your site or introducing a new channel, but as you get into the swing of adding new products and new content, the user journey can become muddied and complicated. Of the sites we reviewed, those ranking strongly had clear category page structures, with beneficial supplementary content easily found aligned with relevant products. Alongside this, consider the journey from a technical SEO point of view – optimise it for both search engines and users.

 
If you're unsure of the opportunities for you to increase your organic market share or your organic performance has remained stagnant for some time, have a chat with us to see how we can help with one-off projects and ongoing support. 
Meghan is Wolfenden's Operations Director, working across our production teams to maintain our high standards of work whilst playing a pivotal role in setting the multichannel strategies for some of our biggest clients.
Latest Insights From The Team.
Explore our team's latest thoughts and actionable advice from our blog to support your digital marketing strategies.