Why you should be using Pinterest Trends as part of your Digital PR strategy
As a Pinterest girly myself, I'm a regular user of the platform. From using it to help me choose my next nail design to inspiration for my autumn wardrobe and home interior aspirations, it's one of my most used apps.
The app is not only useful for everyday life however, but there are also many aspects of the tool which can be hugely useful for PRs too. The Pinterest Trends tool is a fantastic resource which can help you stay up to date with the most current trends, whilst also helping to predict future trends too.
What is Pinterest?
First things first, if you don't already frequent the inspiration app, you might be wondering what Pinterest is actually used for.
At its core, Pinterest is a social network and visual discovery engine which audiences can use to find inspiration and ideas. The platform supports its users in creating "boards" based around certain topics (such as cooking, crafting, makeup, etc) and you can then save inspirational images to each of your boards by 'Pinning' posts.
For the everyday consumer, it's a fantastic outlet for saving ideas and points of inspiration all in one place, whether that's for now or something in the future. In fact, many users are known to spend years working on Pinterest boards around specific future life events, for example a wedding or a forever home.
As a business, Pinterest can also be hugely powerful – the platform is fantastic for improve brand awareness, but it's also well known for its traffic driving abilities too. It is, however, worth considering the demographics of the Pinterest audience and how that aligns to your brand. As of January 2023, the platform is used predominantly by women, with 76.2% of audiences female, mostly between the ages 25-34 (28.5% according to Statista) followed by 18-24-year-old women (18% of total users).
What is Pinterest Trends?
Similar to Google Trends, Pinterest has a handy tool which shows insights into what users are actively searching for. The tool displays a historic view of the top search terms across different regions and countries and you're able to filter this by topic or keyword. The data available not only highlights what people are searching for, but also when they searched for it, insights that are truly invaluable for trend predicting and planning based on peaks and troughs across historic activity.
In Digital PR specifically, these insights provide you with the tools to know if a topic you're focusing on is relevant at the time, if you're jumping on the trend too early, or if in fact it appears like you may have missed the boat.
Why is this beneficial for Digital PR?
The platform is home to inspiration for a huge number of lifestyle-related topics, from interior decorating and parenting to beauty and fashion, and these insights are a crucial aspect of strategic Digital PR activity for brands within these spaces.
We know that journalists are often looking for authoritative data points to incorporate into their trend-led stories, and the data available from Pinterest Trends is a great way to add further substance to topical content.
The stats available on the platform can therefore be used throughout many aspects of a Digital PR strategy; simply identify the right topics for your relevant sector which are aligned with your priority focuses before incorporating the available insights into everything from a data-led campaign to informing trend-led content.
Finally, Pinterest Trends is a fantastic tool for forward planning. Check when searches for certain topics spiked last year so you can be prepared for the topics this year and you can have your expert comments, press releases, and reactive campaigns ready in advance, ahead of the curve.
Lizzy's top tip: Check regularly to identify a trend as it's emerging. I share a fortnightly round up of emerging trends usings the tips below (which can also help other channels identify trends they can react to).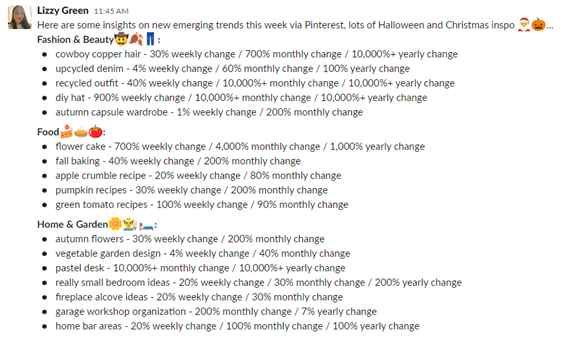 A Guide to Using Pinterest Trends
1. Search for specific trends.
Use the search bar at the top of the page to search for keywords you're interested in and view the data on a graph.
The graph shows increases and decreases in searches over time, and from this you can also find your own percentage increase or decrease to use as stats within campaigns.
Compare trends by entering up to four keywords in the search bar one at a time to compare their popularity. Make sure to also look at the 'Related trends' keywords that are suggested so you're covering all bases around your chosen topic.
For a more targeted analysis, you can select the date range and edit the window of time you want to see the data from, choosing between the last three months, the last six months, or the last year. It also shows the Demographics here so you can review the age and gender distribution for each keyword you have searched for and added to the graph.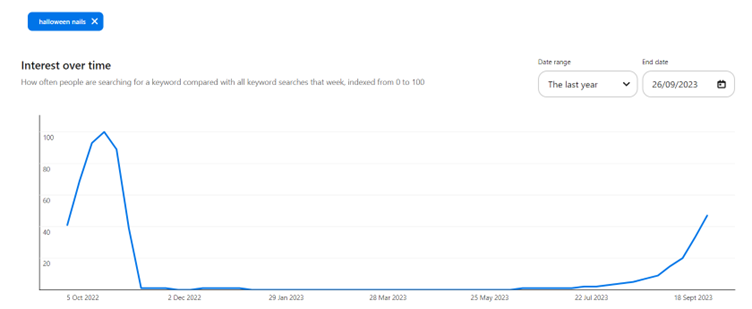 2. Discover trends on Pinterest.
If you have not already defined any specific trends or keywords you want to look at, you can also use Pinterest Trends to see which content is currently popular to spark inspiration, and there are a few separate ways to filter this.
Firstly, you can filter by trend type:
Top Monthly Trends – these are trends with high search volume within the last 30 days of your selected end date.
Top Yearly Trends – these are trends with high search volume within the last year of your selected date.
Seasonal Trends – these are trends with high growth in search volume in the last 30 days of your selected end date that typically reoccur during the same period year-on-year.
Growing Trends – these are trends with high growth in search volume within the last 90 days and can be great for identifying new and emerging trends. This is the filter we use most often!
If you still haven't found inspiration yet you can also filter the insights further to be relevant for your brand.
Use the interest filter to split the trend into specific topics (such as beauty/event planning/travel etc). This will then show the growing trends within that specific industry, so you aren't distracted by trends and information for topics that aren't relevant to you.
To find more specific trends, you can use the keyword filter to search for trends that include that keyword.
Finally, you can also filter even further still by age, gender, and region to be highly specific to your audience.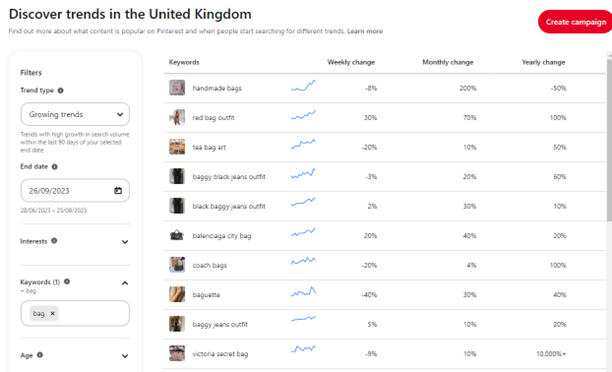 In the current landscape where trends come and go quicker than ever, Pinterest Trends has become one of our favourite tools not only to support our newsjacking and reactive PR arms of our strategies, but also to plan for future campaign work.
Pinterest Trends is a hugely useful tool in our Digital PR Tool Kit at Wolfenden, but across the industry is a tool that can so often be overlooked.
If you're interested in learning more about creating and implementing effective Digital PR strategies, make sure to get in contact today.
Latest Insights From The Team.
Explore our team's latest thoughts and actionable advice from our blog to support your digital marketing strategies.