Understanding micro trends in search to alter your festive strategy
We all know Christmas is looking likely to be a bit different this year. Whilst ecommerce has seen a boom as the high streets have struggled, it's still not the time to stick to the status quo in terms of your festive digital strategy.
Whilst we don't have historical Christmas data to work with in this situation, we can analyse behaviours and trends in the last 8 months to help us determine how shopper behaviour might change this holiday season. We can also look at any wider growing trends over time to understand how we can better align the search terms we're targeting with how our audience is behaving.
For an example of this, we're going to do a brief dive into searches around "hampers" to understand how any trends should factor into the marketing strategies of these seasonally popular products.
So who's leading the rankings for "hampers"?
We took a look at the top 100 hamper related keyword terms, with a total of half a million searches per month, to see who was leading in this space and if there were any learnings to take.
| | |
| --- | --- |
| Keyword | Search Volume |
| hamper | 60500 |
| christmas hampers | 33100 |
| hamper baskets | 33100 |
| chocolate hamper | 22200 |
| gift hampers | 18100 |
| food hampers | 14800 |
| sweet hampers | 14800 |
| hampers uk | 12100 |
| birthday hampers | 9900 |
| cheese hamper | 9900 |
| baby hamper | 8100 |
| easter hamper | 8100 |
| pamper hamper | 8100 |
| afternoon tea hamper | 6600 |
| fathers day hampers | 6600 |
| gin hamper | 6600 |
| cadbury hamper | 5400 |
| cheese and wine hampers | 5400 |
| funky hampers | 5400 |
| hamper box | 5400 |
In the UK, there is a difference between the two types of brands that rank well; niche brands (brands that only offer hamper products) and brand names (brands that offer hampers, but also other products). We looked at the performance of 7 companies of each type:
Niche brands:
Hampers.co.uk
Regency Hampers
Prestige Hampers
Funky Hampers
Treatbox
Baskets Galore
Letter Box Hamper
Brand names:
Fortnum & Mason
Marks and Spencers
Waitrose
John Lewis
Harrods
Aldi
Bettys
On average, as we might have guessed – people search for bigger brand names (e.g. "Bettys hampers" "M&S hampers") more than they do for the niche brand names.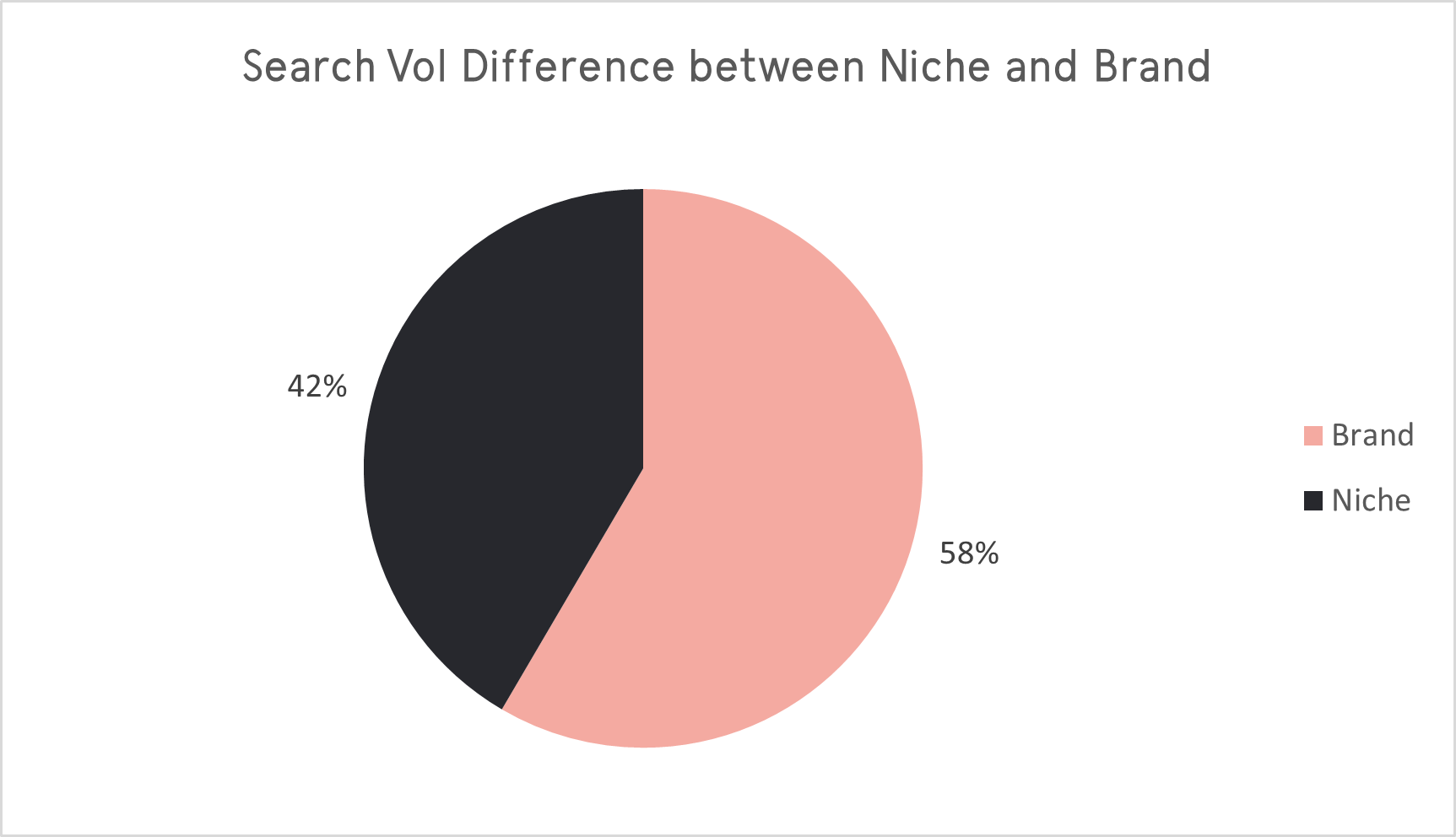 But this is still much smaller than the people who search for generic hamper terms – "Christmas hampers", "gift hampers".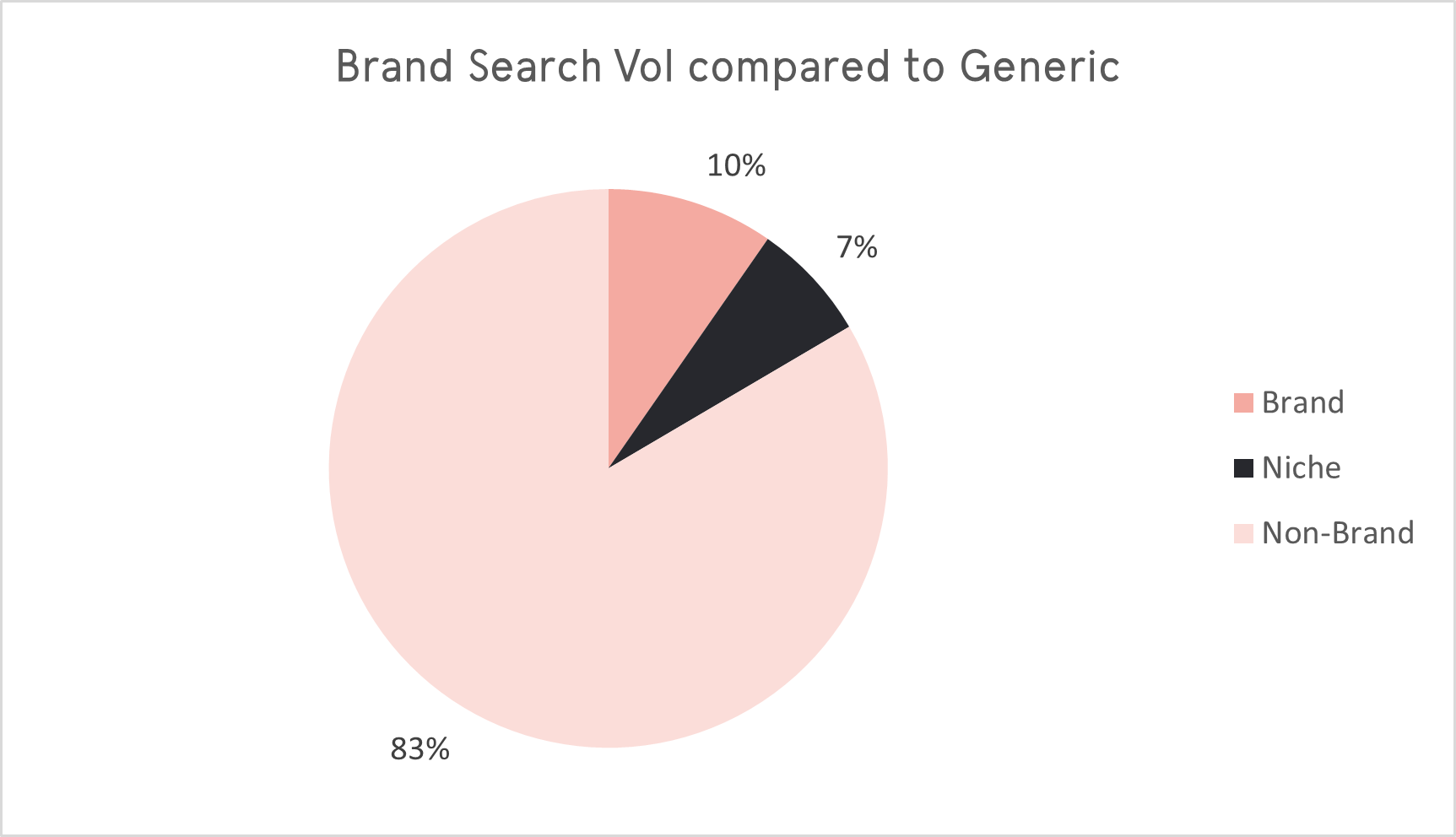 So, performance in non-brand areas is critical to the success of a hamper brand online. Naturally, the household brands typically have a larger online visibility than niche brands as they can rank for a variety of terms outside of one niche.
For example, below is a comparison of Funky Hampers (one of the leading niche hamper brands) to Fortnum & Mason (a premium brand, who offer hampers as one of their main offerings):
However, this general online visibility is not enough to secure good rankings within the hamper niche. For the 100 keywords we analysed, the niche brands outranked the household brands 68% of the time.
This is because 66% of the time, a niche brand will hold the page 1 ranking in Google for a hamper keyword.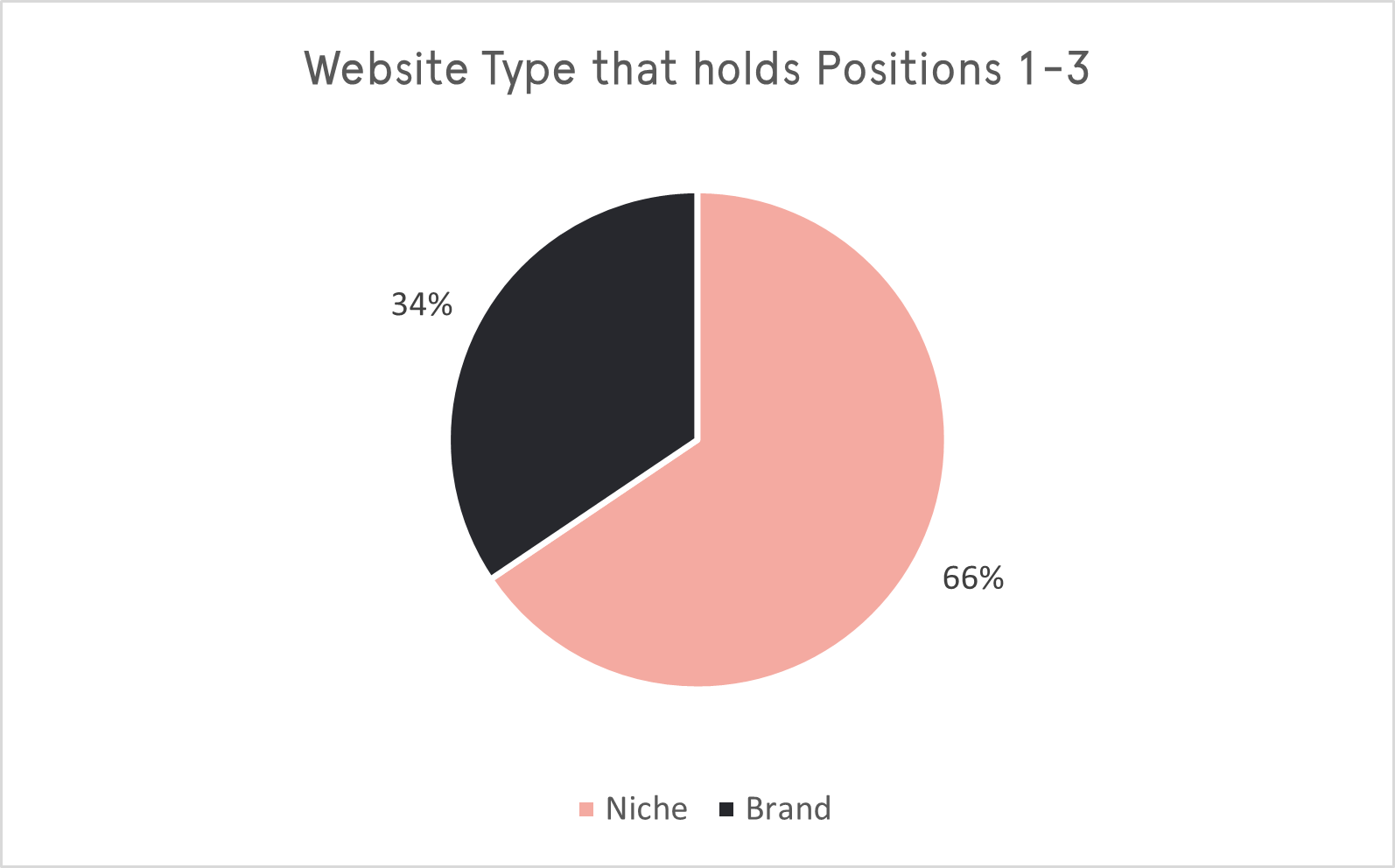 The main reason behind this is relevance – because niche hamper brands solely provide hampers, and all of their content is tailored around this topic, it's easier for Google to view them as specialists in their field.
This makes sense, because otherwise Google would simply be an online version of the high street, whereas their goal is to provide the most useful result for the query searched.
Ranking well is always a mix between technical excellence, content quality and relevance, and link authority. Niche brands should invest in a technically solid website and high quality, thorough and expert content to compete on a more level playing field with big, authoritative brands.
What emerging trends should hamper brands look out for?
Searches for hampers and gift hampers have always peaked in December, however the current pandemic meant that once lockdown hit in March, there was a large uptick in searches throughout the year, with people looking for ways to send gifts (predominantly food gifts) to loved ones without going to the shops or seeing them in person: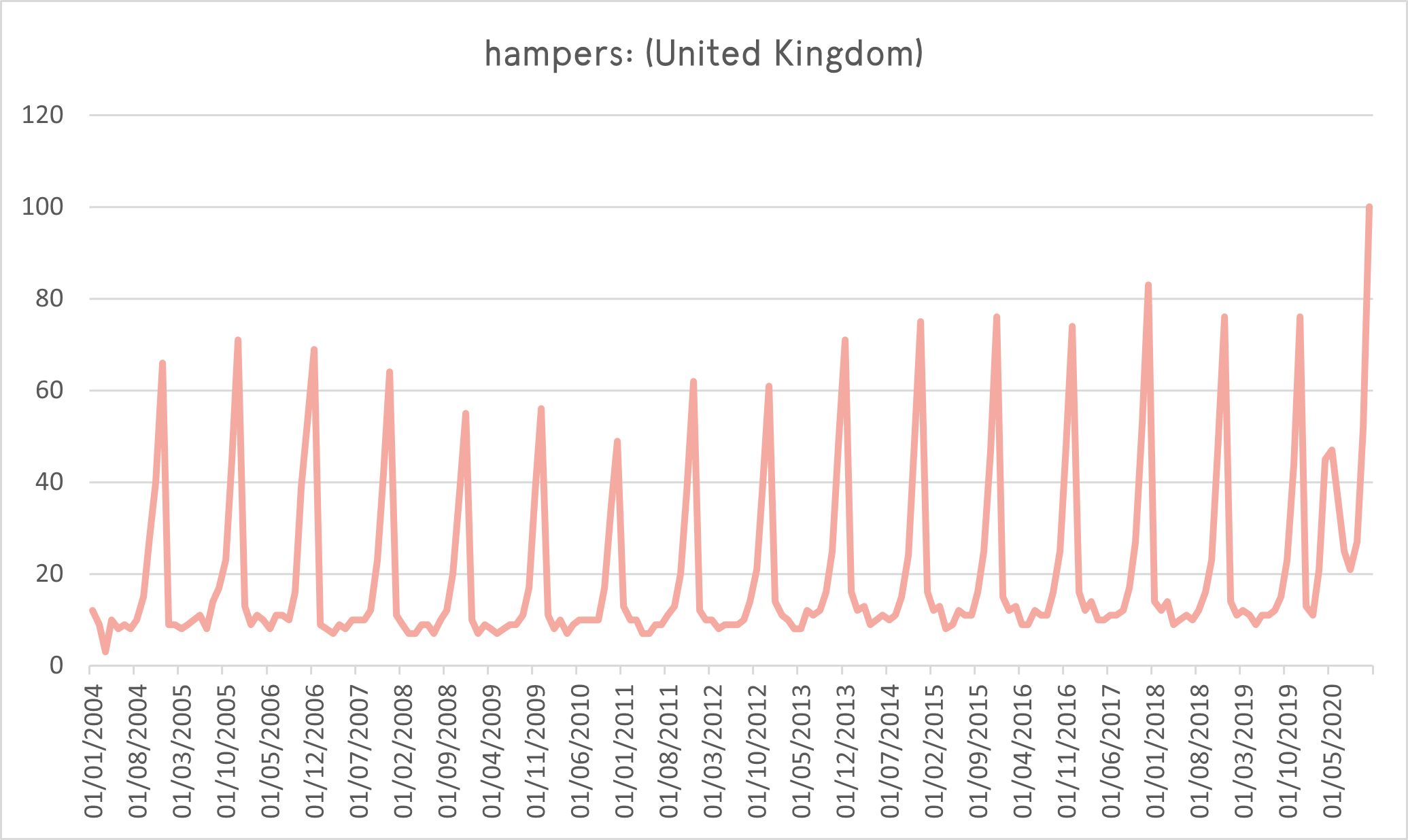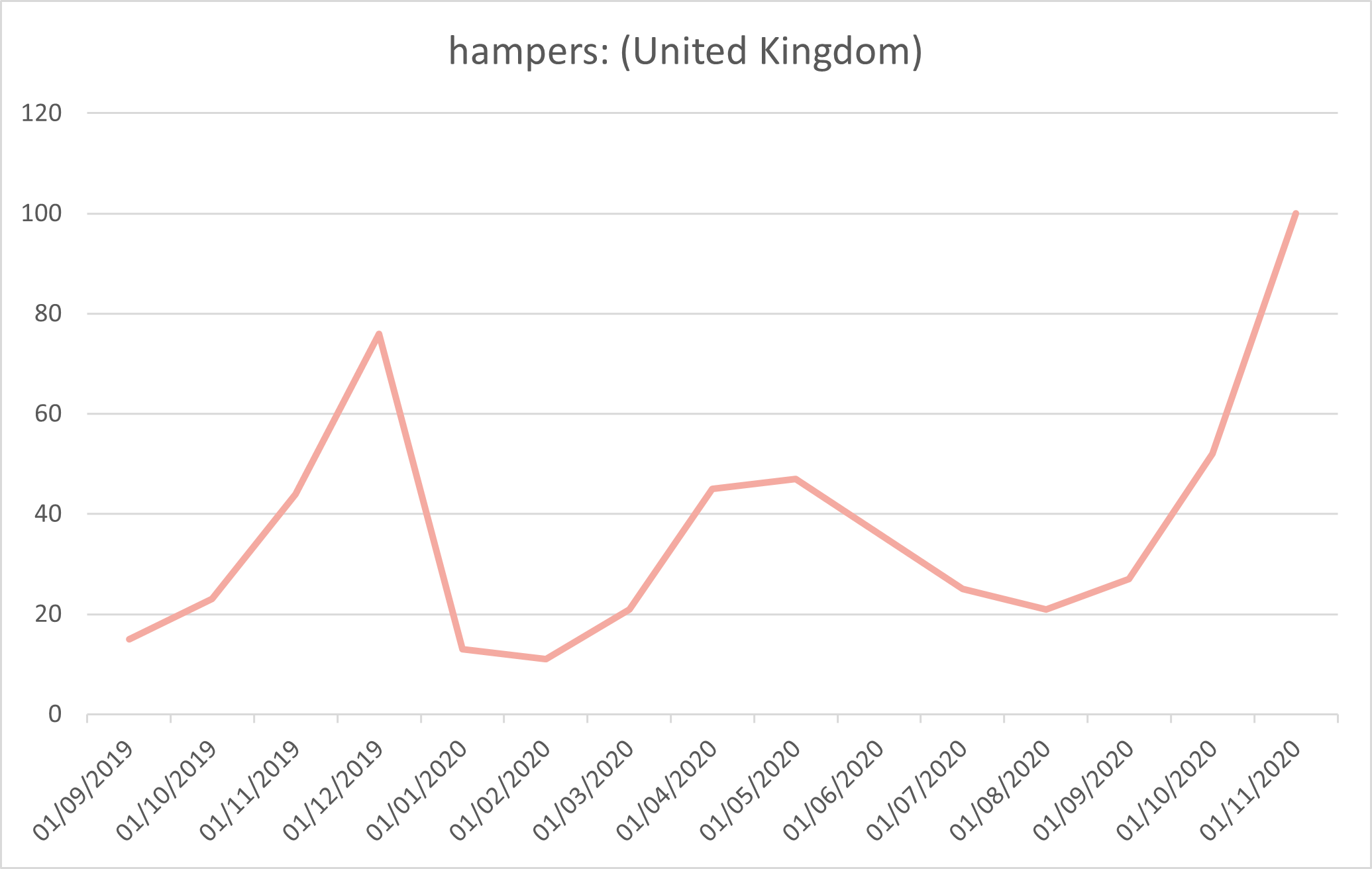 A growing sub niche in the UK has also been around "baby hampers" – which has been steadily growing in popularly since around 2015, most likely aligning with the growing popularity of the typically American tradition of baby showers.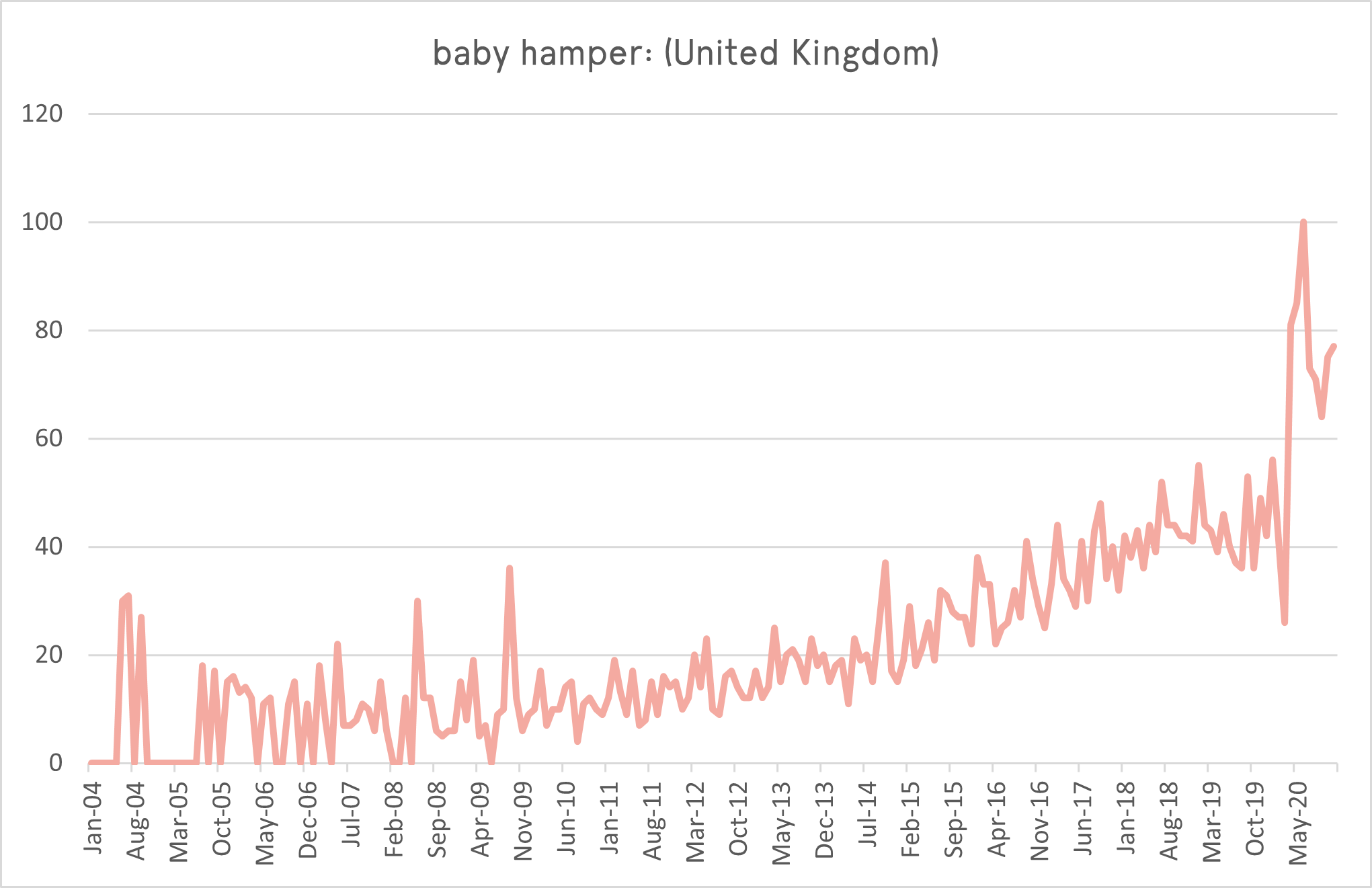 The spike in lockdown for "baby hamper" was most likely in lieu of planned showers that couldn't go ahead and people sending delivered gifts instead.
As well as the spike in baby hamper searches, letterbox related terms have increased a lot since the onset of lockdown.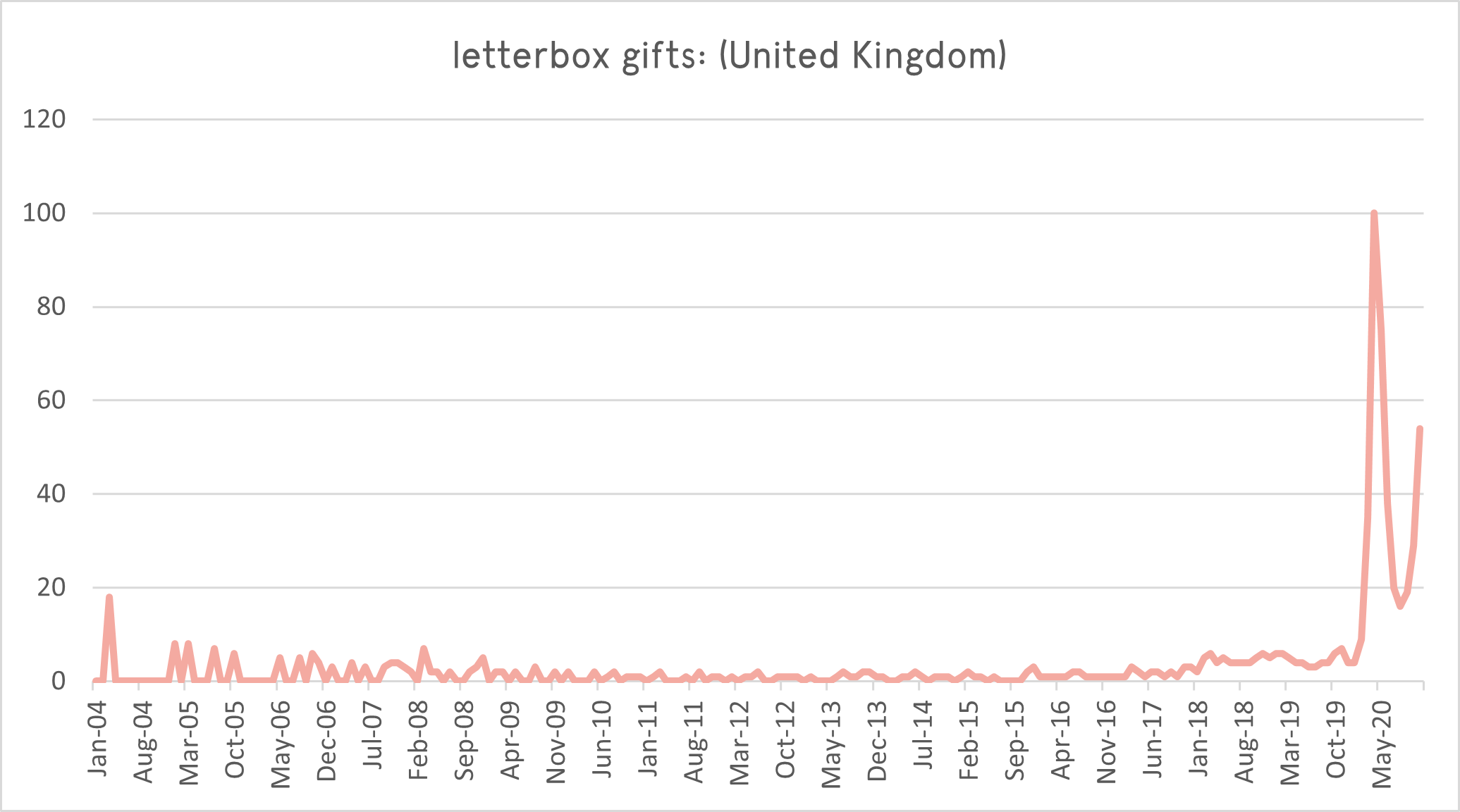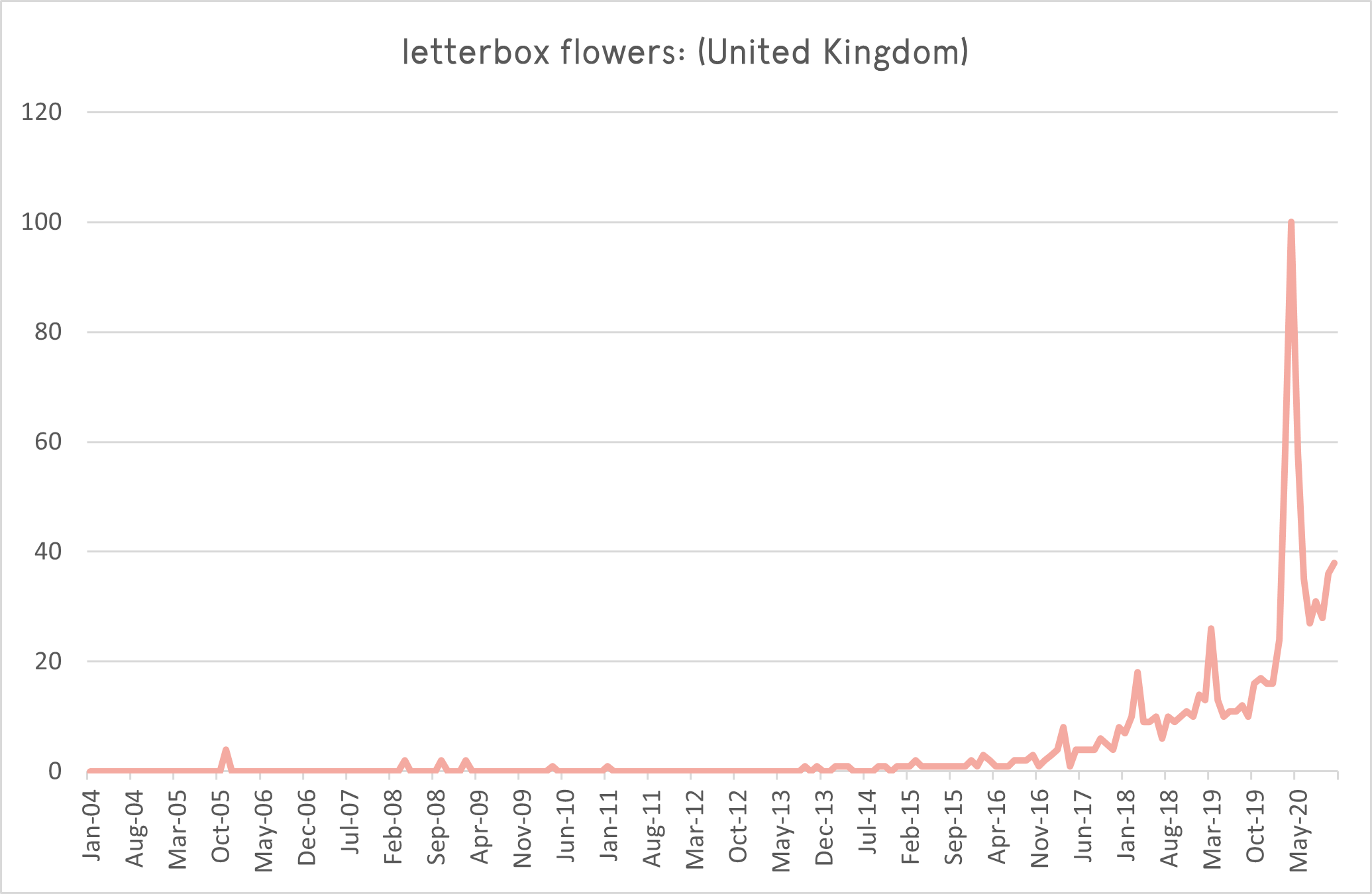 With people looking for ways to send gifts that will definitely get to them it's not hard to see why this has risen in popularity and looking ahead to Christmas – this is only set to increase.
Flowers as a gift have also picked up in popularity, especially when coupled with "next day" and "hampers":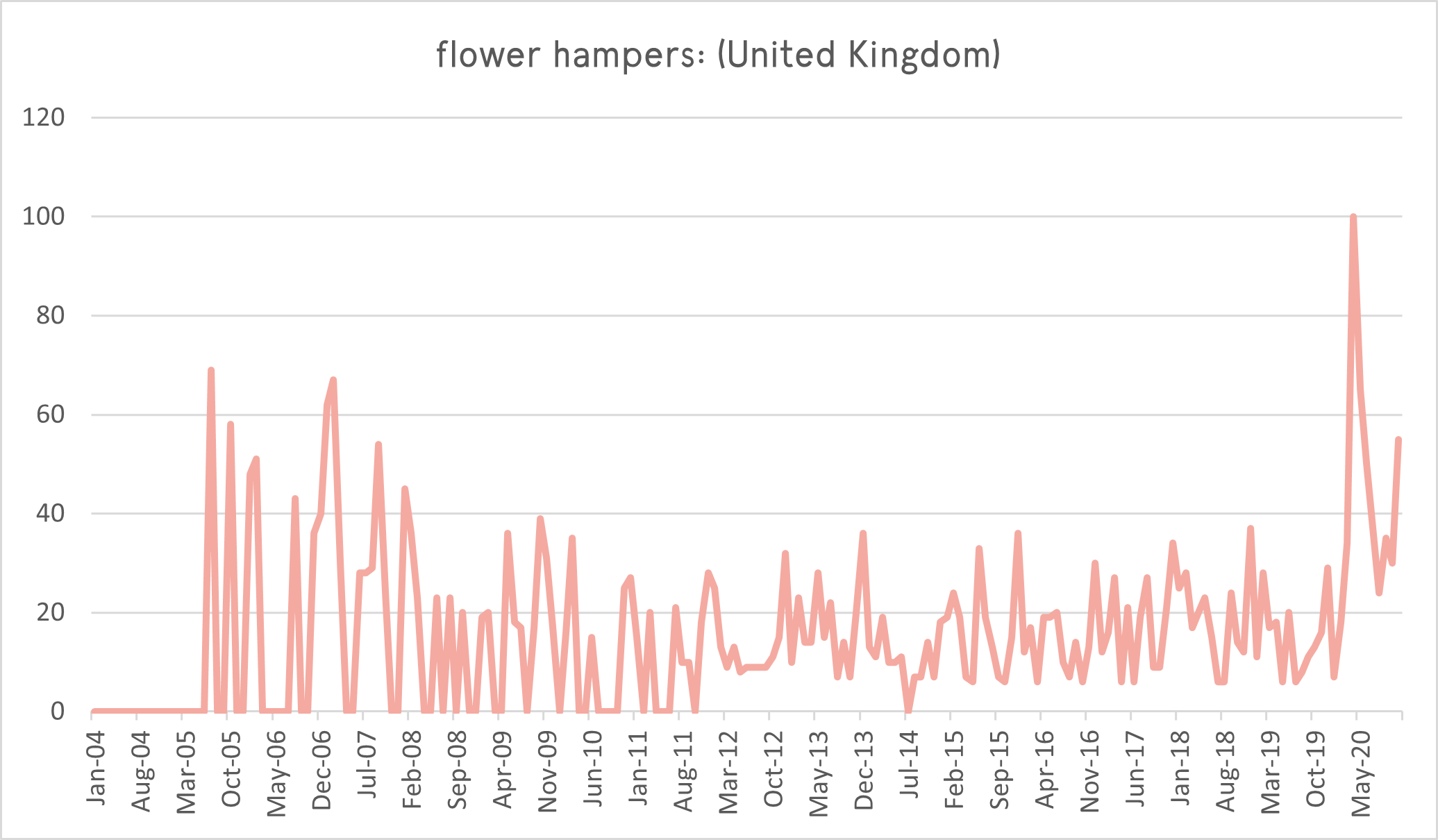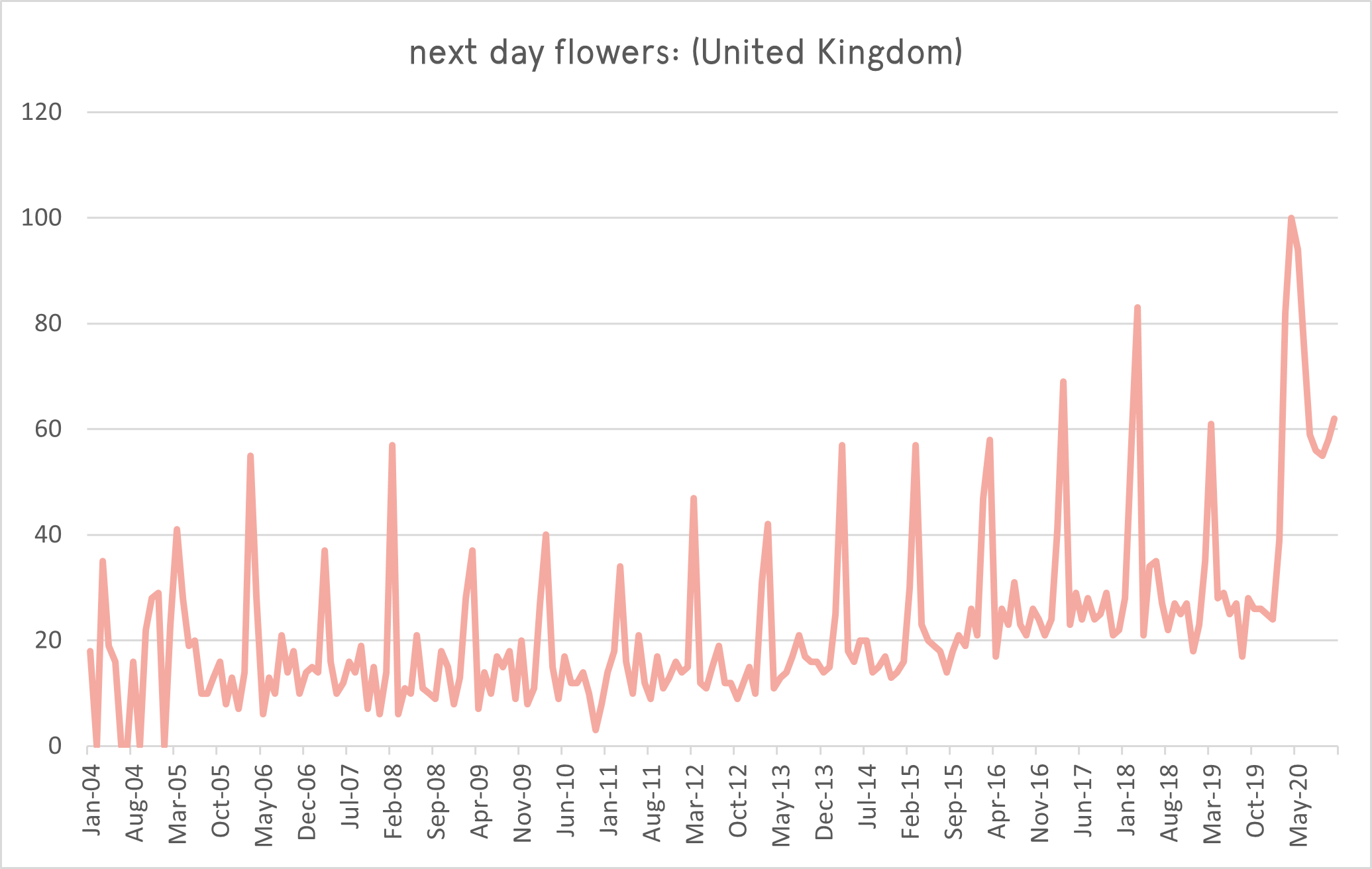 On delivery, whilst terms around same and next day delivery have been increasing steadily over time as consumer demand for speedy delivery and convenience increases, they have seen a huge spike since lockdown hit, and it's something to consider factoring in to both your organic strategy and your paid ad copy.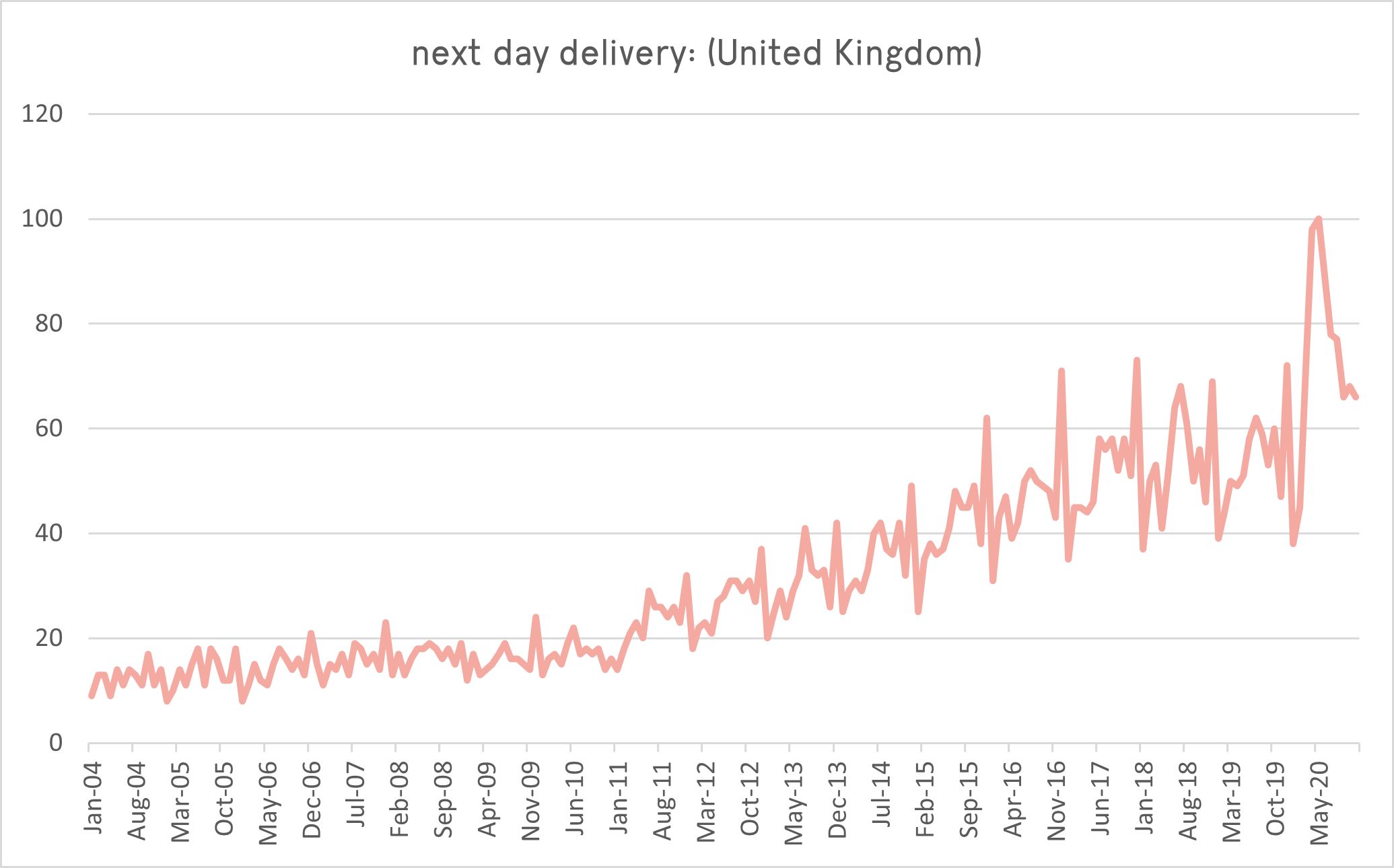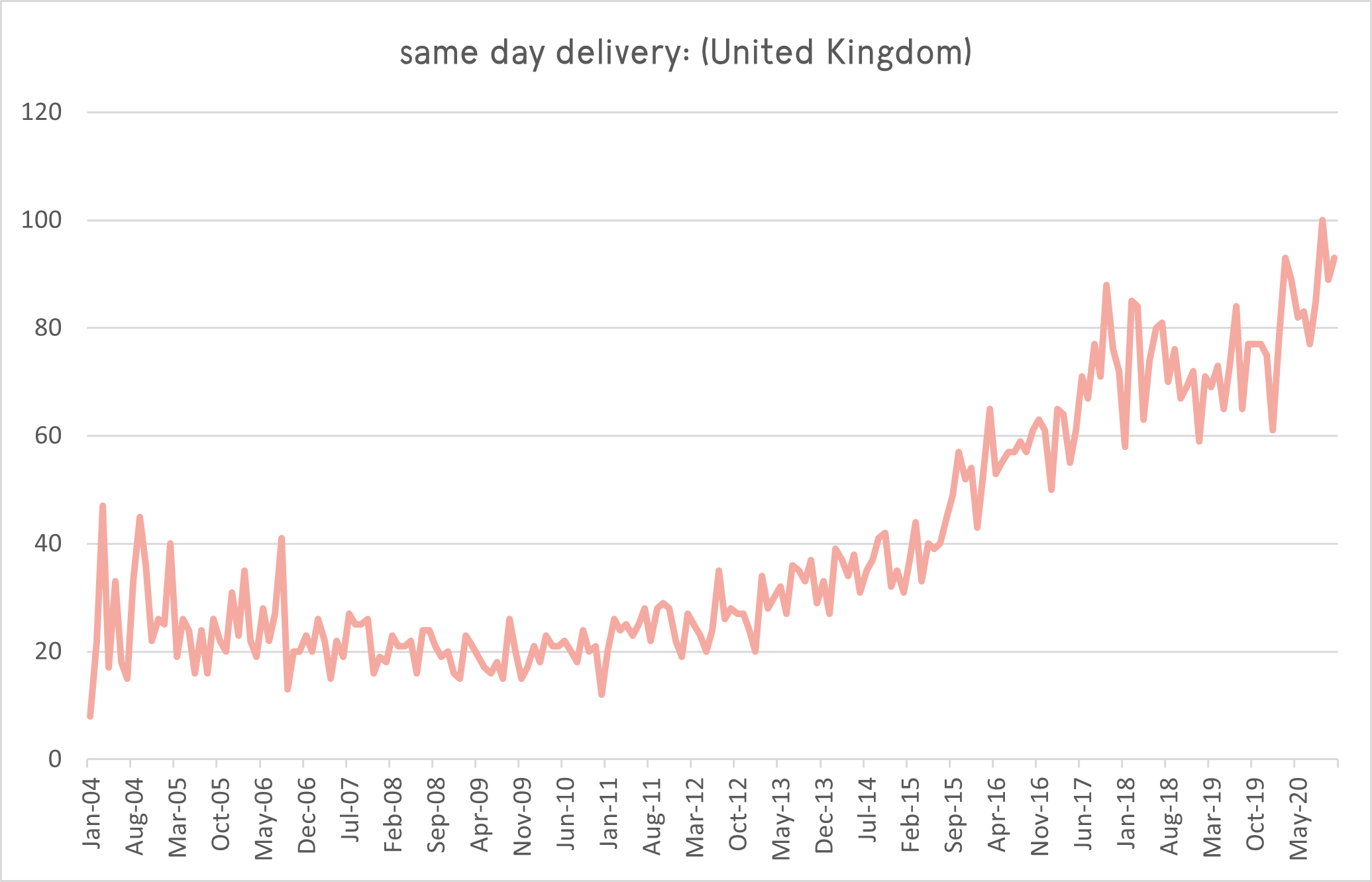 Factor in your research
With Christmas fast approaching, don't delay in doing your research and amending your search strategies to align with how your audience is behaving.
If you work with an agency, ask them to take a look at the past 8 months' worth of search data to understand if there are any emerging trends you should be altering your strategy for. Now is a brilliant time to roll out expert content and reinforce why your customers should choose you.
Revisit your search terms, your ad copy, your social messaging against these trends and make sure you're being as targeted and visible as you can this Christmas.
If you need any support with the research or altering your festive strategy, please get in touch, we'd love to chat.
Felicity is Wolfenden's Marketing Director, setting the strategy for our brand, marketing activity and new business.
Latest Insights From The Team.
Explore our team's latest thoughts and actionable advice from our blog to support your digital marketing strategies.