[Report] The Trends That Matter: Sustainability.
A sector rapidly turning into a business necessity, skewed by search results and in desperate need of education.
The eco-friendly and sustainable ecommerce market; one which you might think is growing exponentially, is actually struggling to compete against much larger, established multichannel retailers. Whilst consumers are showing strong intent to lead more sustainable and ethical lives, it's not translating to action.
In this report, we delve into the challenges and opportunities for brands across retail sectors including fashion, health and beauty and household products in forging and capturing the demand for sustainability. We look at the search terms indicating eco-friendly intent and which brands are dominating the market, and importantly, where the gaps are to help build and lead this market. We analyse the visibility and authority of key players in the sustainable sector, reviewing SEO, PR and social media approaches to identify what's working and what isn't.
Ultimately, we identify what retail brands can factor into their marketing strategies now to be at the forefront of a sustainable ecommerce future.
Current state of play
Despite the necessity for sustainability growing in societal awareness, there is a still a strong sense of distinction between niche sustainable organisations, and other businesses. It seems either an organisation has set a clear purpose to make sustainability a core part of their business model, or sustainability is now a necessary element that needs to be considered alongside sales and growth strategy.
But, there is an inevitable change underway for sustainability to become a necessity across all organisations. A recent Nielson study found that 73% of global consumers say they would definitely change their consumption habits to reduce environmental impact. This contrasts with fewer than 1 in 4 shoppers who think their own shopping behaviours have a major impact on climate change. There is a clear disconnect between the desire to change, and the education around the reason and potential impact of changing.
You would expect that this inevitable shift benefits existing sustainable companies, but the message is fragmented across sectors. Understanding and helping to educate the customer is key here. Purchasing sustainably is currently driven either by eco-consciousness qualifying the purchase, or a separate intention with sustainability as a by-product – such as reuse, recycle or purchasing for lasting quality.
Overall, there is a movement towards anti or conscious consumerism which is reducing the size of the market and increasing the focus on quality and lasting value. For example, within the fashion sector, 39% of UK consumers stated they had bought fashion items in the last 12 months that could be used for multiple occasions (Mintel – Global Consumer Trends 2023). In addition to this, people are showing more desire to be connected to the values of a company, with 45% of UK consumers saying they prefer to be involved with institutions or companies that promote equality (Mintel – Global Consumer Trends 2023).
There's a challenge here for brands – sustainability can no longer be seen as a status symbol. The brands which practice sustainability throughout their business need to connect with the values of their customer and educate why their practices can have an impact without ignoring those values. Additionally, customers are willing to invest alongside brands; from drawing back from over-consumption they can refocus energy and resources towards a more sustainable, anti-consumerist lifestyle. A recent Morning Consult report showed that 42% of US adults are willing to share the cost burden of going green with the brands they shop from.
With a clear desire towards wanting to live eco-friendly lives, brands need to understand how they can meet this inertia to inspire action. Recent research from Unilever has shown that 78% of people polled say that social media is the information source most likely to encourage them to act more sustainably, much more so than TV documentaries (48%), news articles (37%) and government campaigns (20%). So, whilst there is clearly a lot of consideration needed for organisations to review their relationship with sustainability across all business touchpoints, what should they be considering from a marketing point of view? And which brands are already leading the market for eco-friendly demand?
Which companies have a foundation of sustainability in the current search landscape?
We've analysed search language relating to purchasing sustainable products across three retail categories to gain an understanding of who's dominating the eco sector. We've analysed over 750 search terms relating to fashion, health and beauty and household products. Each of the terms has an eco-qualifier specifying the intent for eco results, including general qualifiers such as "eco"; material qualifiers like "bamboo" and lifestyle qualifiers like "ethical" or "natural".
Immediately, the nature of this analysis has shown one of the limitations of the sector with the need to qualify eco intent to find relevant products. This means a customer must be informed and educated prior to making a product search; there needs to be a general awareness that sustainable products are available for specific categories and product types. There is more educational maturity with some products over others, for example many consumers are aware of the impact of plastic toothbrushes and know there are more sustainable alternatives such as bamboo, and there is a similar eco-consciousness about natural materials within fashion. The challenge for brands is facilitating the education around eco products which don't have as much awareness.
Let's have a look across the three retail categories chosen which brands are visible for eco demand and why.
Fashion
Eco-friendly fashion terms drive relatively low volume in comparison to the huge volumes driven elsewhere in this sector. Material-specific product searches can show some eco intent but may be searched owing more to the feel, style and quality of the material, e.g. bamboo, linen, organic cotton. There are quite a few language variants to consider when looking at sustainable fashion searches, such as "sustainable fashion", "recycled clothing" and "ethical clothing brands". Sustainability is still a secondary qualifier and isn't driving significant search demand for the industry and this is therefore reflected in the organisations carrying the largest market share.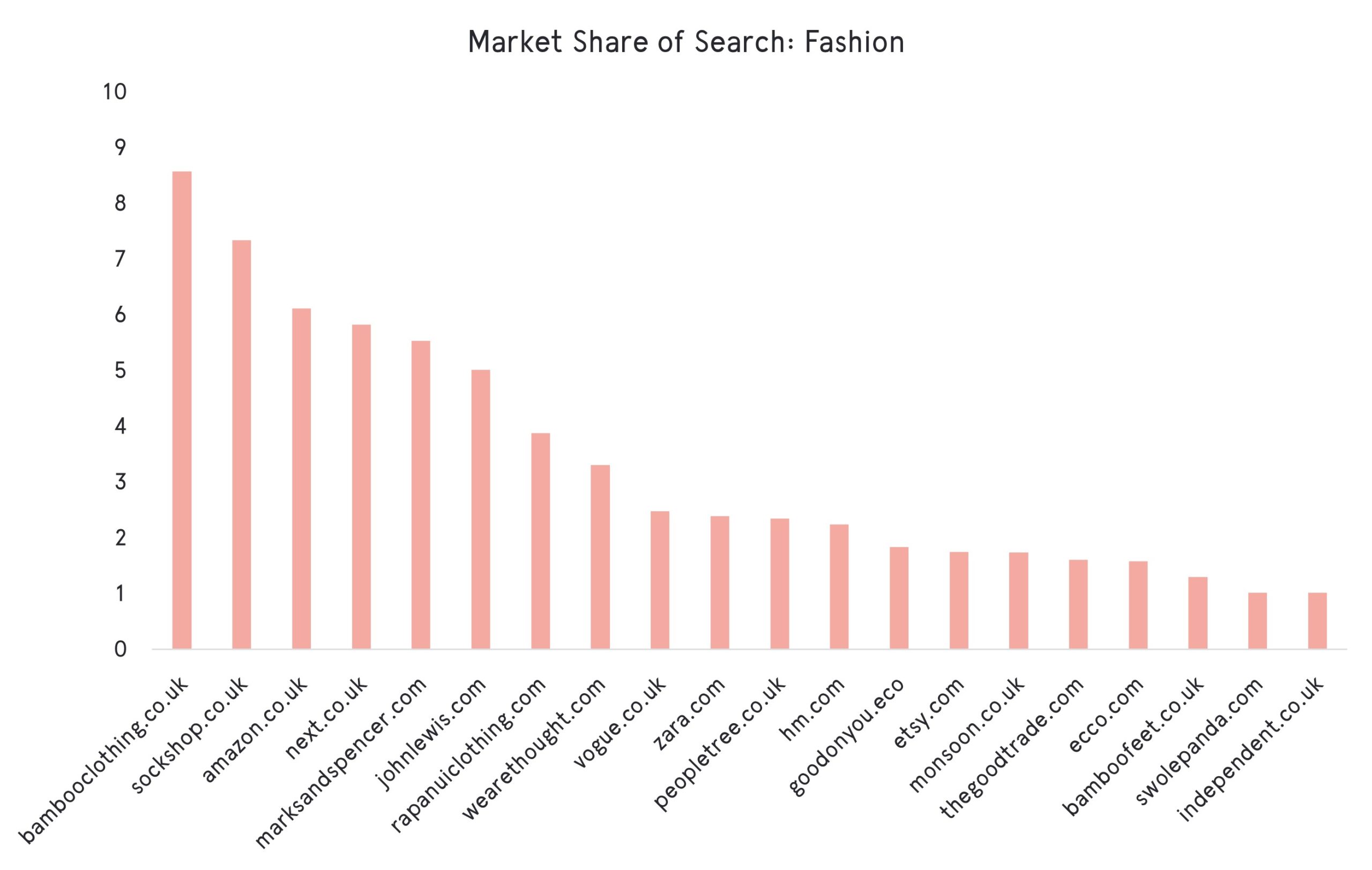 Bamboo Clothing leads for overall market share of search, this is driven by strong rankings across bamboo-specific terms as well as having strong visibility for terms used when seeking sustainable fashion brands.
What is apparent is the ability for the major retailers to rank across the category through specific sustainable collections. For example, Amazon can rank for sustainable product-specific terms, whilst arguably contributing more than most other retailers to the climate crisis. Then there are fast-fashion brands gaining market share despite questionable and unsustainable business practices. Customers are much more likely to find genuinely ethnical and sustainable brands through more general discovery searches, but the onus is on the consumer to research. Seeing the likes of Zara and H&M amongst the leading organisations gaining search share brings into question the tangibility of some search results in relation to the pure intent.
Health and beauty
Taking a similar approach for the health and beauty category, we analysed key phrases across makeup, dental, hygiene and haircare. Key phrases were qualified with materials as well as other eco qualifiers such as 'reusable', 'organic' and 'natural'. The sustainable health and beauty sector has products which have emerged from the need to be more eco-friendly, such as shampoo bars and chemical and plastic-free products.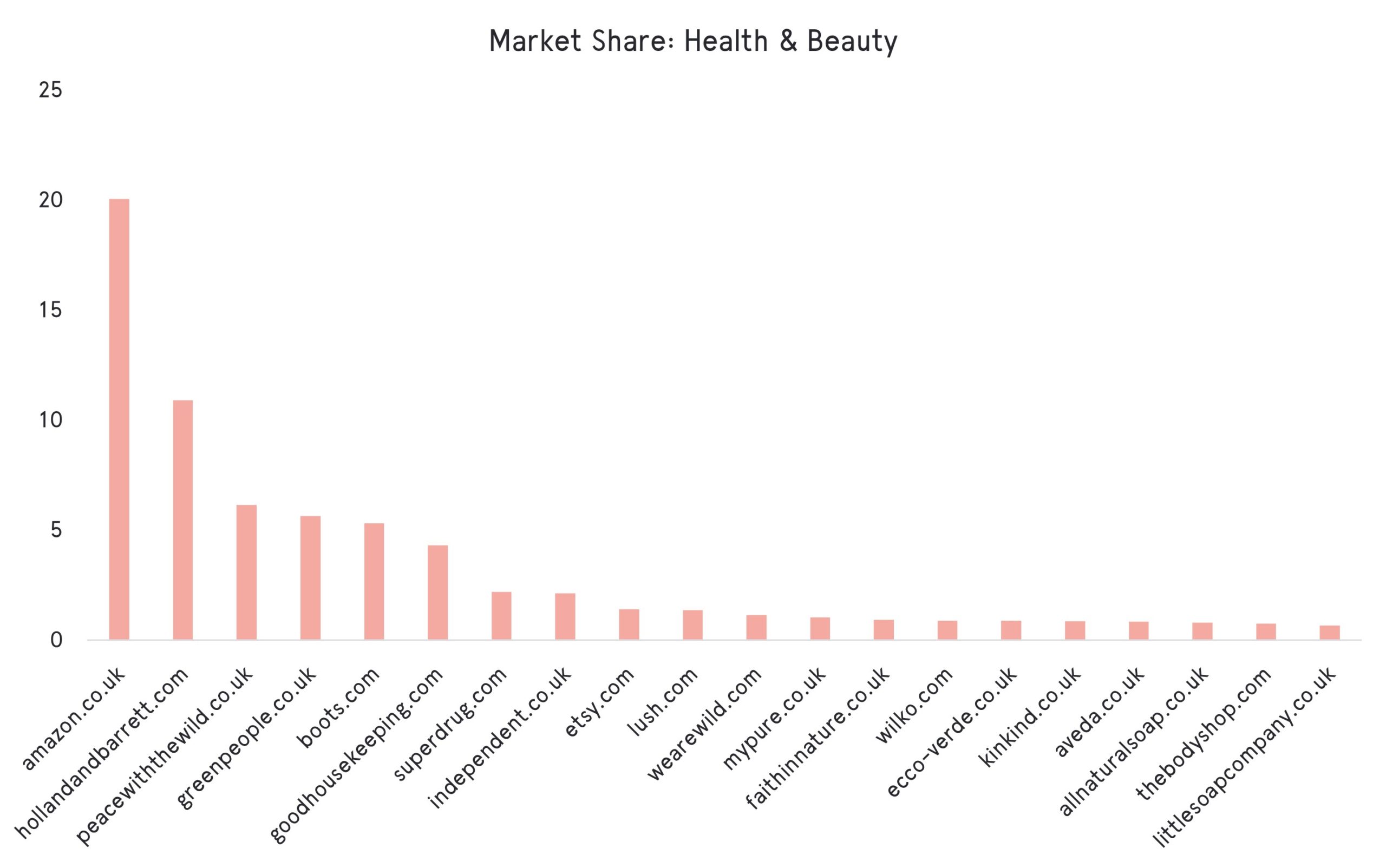 The big surprise here is that Amazon has such a dominant share in search. Google doesn't reflect more ethnical businesses in its results, only the relativity of the product to the search term. Large retailers can dominate the SERPs alongside a mix of niche climate-conscious organisations and content publications.
Good Housekeeping and The Independent capture discovery terms such as 'best natural deodorant' directing to more sustainable brands. The health and beauty category is dominated by individual brands sold through large retailers, so it will be a real challenge for emerging brands to capture customers' attention here.
Household products
The household category covers a range of eco-conscious searches across cleaning, laundry, pet, kitchen and household products. Our analysis here has a similar conclusion to the health and beauty sector with the addition that some specific branded products have established themselves to the point of driving significant enough volume to have an impact on the market share of search, for example – "Eco Egg".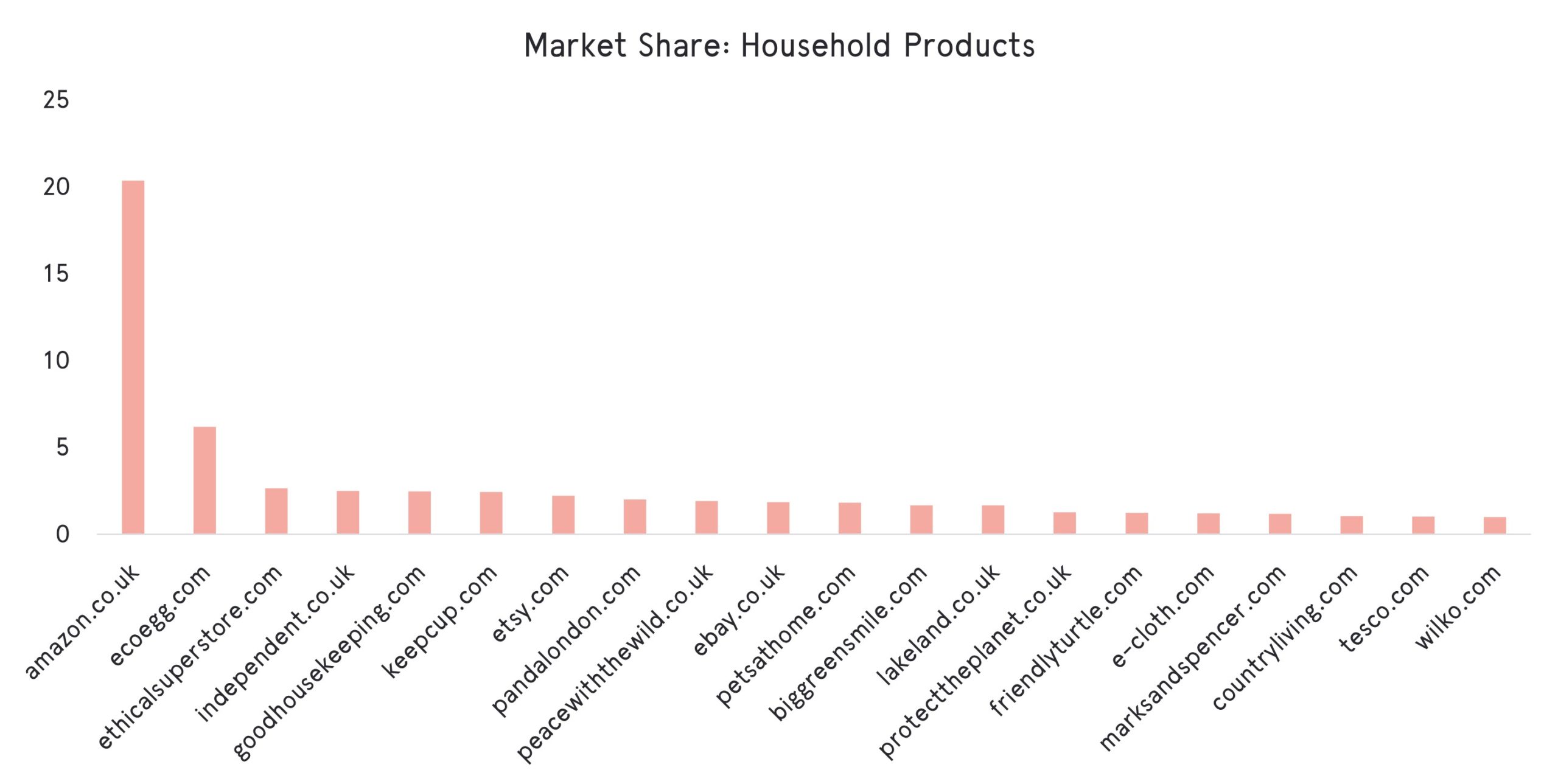 Amazon dominates once again! The sheer size of Amazon's product range allows it to rank for a variety of terms which other organisations would find difficult to optimise for.
The Ethical Superstore is the most relevant sustainable comparator to Amazon and has relatively strong visibility across the category. Generally, the organisations which have established a share of search do have a product range relevant to the niche nature of eco searches.
Overall, the search analysis has shown that there needs to be a great deal of education to drive up search demand and drive real change in customer buying behaviour. This is currently happening on such a small scale that it's not disrupting the major retailers, i.e. Amazon.
There is a question to be asked of the search engines – users with clear alignment for sustainable and ethical lifestyles are being shown products sold by arguably unethical and unsustainable organisations for searches with clear eco qualifiers. Is this potentially a drawback of how search engines have evolved? They are driven to deliver the "best" result but the definition of "best" doesn't necessarily result in the most ethical or sustainable results.
What are eco brands doing to improve their online authority?
As a natural extension of the search analysis, we reviewed the PR and social media approaches of the more general sustainable retailers in the sector. What are they doing to build their authority online and support rankings as well as build relevant audiences?
Digital PR review
The results of our analysis from a digital PR point of view were frustrating. With just a few exceptions, most of the companies analysed had only a product-driven approach to digital PR.
Ethical Superstore clearly prioritises product PR over everything else. Over the last 12 months, the majority of coverage has been within roundups and gift guides across lifestyle publications such as Grazia, Good Housekeeping, Ideal Home and Countryfile. This coverage will help to support product-level search visibility, but isn't doing much to further establish Ethical Superstore as a serious alternative in the retail space or to educate readers on the reasons to shop with them.
This seems a short-sighted strategy; focusing on the end of the buying funnel and carried out to satisfy a need to harvest demand as opposed to really working to shift the market and generating that demand. The brand has dabbled in product-focused PR with more of a lifestyle approach, incorporating trending topics such as "12 ways to be a better tourist right now" (Time Out) and "A nutritionist's guide to navigating vegetable shortages" (Country & Townhouse). They are relying on their strong product offering as opposed to establishing themselves as an authority and the go-to experts within the sector.
Peace with the Wild is taking an extremely similar approach, very much focusing on product-specific PR, prioritising round-ups and gifting options. We see similar lifestyle publications and article titles such as Hello Magazine with "Best plastic alternatives to try" and Countryfile with "Best natural candles for 2023". This product focus continues across the sector, including a relatively aggressive affiliate strategy from Big Green Smile and more product PR from Natural Collection.
There are exceptions however, and the brand that really does stand out by doing something different is Green People. This brand has a mix of product-led PR along with the promotion of its hero products and some quality expert-led pieces on behalf of their 'cosmetics scientist'. This is helping to establish the brand as true experts in the eco space, as well as reach specific customer needs within the health and beauty sector.
Sustainable Jungle is a prime example of the difference between the approach of retail companies and editorial publications in the sector. This is an editorial site, so the coverage is generated by the informative and educational content it features. This is really what the market is crying out for – more education.
The features only seem to be generating interest with similar informational content sites. The content it publishes is useful but not so impactful, so it doesn't necessarily capture attention. There appears to be a lot of focus in creating content that answers low volume queries across topics such as fashion, beauty, travel and finance. But how can brands and content creators push this information out in a way to drive real change?
Social media review
First, let's have a look at what we discovered from analysing the social media approaches of brands in the eco space.
Those brands with the strongest social media presence and engagement are the ones with informative and educational video content, such as Peace with the Wild, which regularly posts 'how to's' and 'top tips' style video content across Instagram Reels and TikTok which outperforms other content types in terms of engagement. This brand also sees regular user-generated content on TikTok from smaller nano-influencers, a tactic which builds brand trust and loyalty.
Another strong approach comes from Friendly Turtle, a brand which has separated itself from competitors with a unique, fun and cheeky tone of voice. This brand regularly posts light-hearted and humorous memes and quotes with their opinions which garner strong engagement levels. Memes are a good way to relate to and build up online communities, building up a strong brand following and connecting with customers on a more relatable level.
Some of the other brands reviewed which did utilise video content could do with shifting the approach more towards an educational and informative perspective; for example, Eco Living's video content performs the best out of the formats it uses, but is very product-led, there is a strong opportunity to work in more informative and relatable content.
Brands such as Ethical Superstore, Big Green Smile, Sustainable Jungle and Earth Bits are all lacking video content – the most engaging format for building a following and connecting with potential customers. Across the board, there is a strong opportunity to get involved with trending topics and conversations – there is a strong following and desire for content within this space. Some topics aren't explicitly labelled as "eco-friendly" or "sustainable" but are linked to working towards a more sustainable and ethnical future. The biggest trending topics we've identified are:
Plant-based diets / veganism
The fall of 'fast fashion'
The rise of second-hand buying (Vinted has had a huge influence here)
Climate action and what businesses are doing to fight climate change
Creating a capsule wardrobe – buying quality clothing items over quantity
Reusable items over single use
Eco-friendly food packaging
What can brands do now?
There is a clear – and growing – desire for consumers to establish a more sustainable lifestyle, but there is still a long way to go for brands to connect in ways which can drive the potential of sustainability. It's not enough to build visibility for relevant eco terms and wait to capture the demand – the demand needs to be generated.
The biggest opportunity for eco brands is in education. Harvard Business Review states 65% of consumers might feel enthusiastic about eco-friendly shopping, but only about 26% of consumers then go on to actually convert. The recent cost-of-living crisis could be a factor in the sector losing interest, buying habits may be more swayed by cost right now rather than the environment, presenting an opportunity for brands to connect a sustainable approach with cost savings where possible, and providing more education around the long-term cost and impact.
Here are the four marketing tactics we would recommend now to educating potential customers and building your brand authority in the eco space:
 Social media is one of the strongest channels to encourage consumers to act more sustainably; review your brand's social media strategy and output, how much of it is educational and informative as opposed to product-led? Video content should be a core focus of your strategy, give your brand a voice and inspire change. Use your expertise and passion to build a following and a community, this won't happen overnight, build a consistent strategy which feeds into trending topics to tap into existing content demand and puts your brand in the heart the conversation. Share your own journey towards sustainability and be transparent with your audience to build up trust and loyalty.
 Consider the use of influencers and nano-influencers, as well as using any UGC to make your brand more relatable and authentic, as well as giving you an authority boost.
 Establishing a strong search market share for relevant terms to your products with eco-qualifiers is a good start, but you're missing out on a huge potential audience who wouldn't even know to search those terms – use PR to get in front of wider audiences and focus your content on education. We've said it before and we'll say it again, brands in this space need to generate the demand towards a more sustainable future – connect your own brand values with their own, why should they care? Use spokespeople within your business to offer expert comment and advice and connect with trending topics to enable cut-through. Digital PR should be the strongest focus of your search strategy.
 Learn more about your potential audience – the opportunity across most products is vast, so you need to learn how to engage with different audiences and the differing levels of knowledge around sustainability. If you can understand your audiences' values and desires to move towards a more sustainable way of living, you can use this knowledge to form the basis of your content marketing strategy.
From a wider business perspective, consider these three areas when reviewing your own role in pushing forward the agenda on a more sustainable ecommerce future:
 Manufacturing processes and impact: Sustainability doesn't purely relate to the impact products have at purchase. Brands need to understand the full manufacturing process including supply chain management. Does the process deliver a sustainable outcome and are customers aware of the impact?
 Product impact: What happens to a product after purchase and how can brands extend a product's lifetime? In the US, the fashion industry is estimated to put 26 billion pounds of textiles in landfills each year according to the EPA. Every product will have a lasting footprint on the earth and brands need to ensure they evolve towards creating quality, multi-use or lasting products to reduce overall impact on the environment.
 Shipping and logistics: Brands can pollute through packaging waste, shipping and their returns policy. The definition of sustainability will become more stringent and consumers will expect more from organisations as they become more educated on the impacts.
From a marketing perspective, the immediate actions lie in educating customers and ensuring they are best equipped for making the most sustainable choices throughout their lives. This will include taking brave steps to take on some of the largest and least sustainable businesses with clear communication and impactful campaigns.
Change needs to accelerate to start to meet customers' intent to lead a more sustainable life. Marketing platforms are not the ones accelerating that change, especially not Google. Climate change is only going to become more visible and directly impact more lives so now is a point to lead the conversation and re-imagine a future of sustainable business and consumption.
Latest Insights From The Team.
Explore our team's latest thoughts and actionable advice from our blog to support your digital marketing strategies.