Marketing to your tribe: Finding & targeting your audience – Part 1
Defining your target audience and working to understand them is the most important stage of any marketing strategy. It dictates where you need to target potential customers, with what message, at what time.
Not only is this key to your marketing activity, but it underpins your entire business; so, we've put together this short guide (in two parts) to help you work out who your audience is and how to reach them.
This first part tells you what data to gather to be able to start building up a picture of your target audience, in the next post, we'll tell you how to use this information to create and activate audience personas.
One of the most important things to understand is that your target audience isn't "everyone" or "anyone" … you have to be able to identify and understand your particular niche so you can better target them in a more efficient (and affordable!) way.
The more in-depth you can understand your audience, the better you'll be able to target them and the higher your conversions and ultimately, ROI, will be.
Defining your target audience
Your target audience can usually be defined by common characteristics in terms of demographics, but importantly, you'll want to learn about their common behaviours and interests too.
The more detailed you can be, the more likelihood there is of the audience converting. Remember that your target audience might not necessarily be who you want to reach or you think you are reaching – you might find your audience is totally different to who you intended your product / service for.
You might have different target audiences as well. For example, a travel company might provide holidays for both young families and young couples, which means the messaging and potentially channels to market to each might be different, as different features and benefits of the holidays will appeal to each.
Start with your existing customers
The best place to start is to look at who is already using your products or services, what are the defining characteristics of your existing customers?
By gathering information on your current audience, you can identify and target people who fit the same mould. Some data points you might want to pull out are:
Age
Location
Language
Education level
Occupation
Marital status
Income level
Stage of life
Another good data point to pull out is how they found out about your business, if you don't already track this, make sure you start moving forwards – this could tell you which channels are working.
These are all data points that you can use to feed into your messaging and campaigns to make them applicable and relevant to those you're targeting, so each one is important. The most likely place you'll find the above data points is in your Google Analytics…
Gather insights from Google Analytics
If you navigate to Reports in Google Analytics, you can select Audience > Demographics or Audience > Interests, which will drill-down into your current users. If you have accurate tracking setup, you'll also be able to analyse these audiences by ecommerce conversion rate and revenue – giving you an idea of your most profitable audiences.
To do this, you can click into each breakdown across age range, geography, interests, technology etc. giving you the highest performing categories for each.
Whilst this is really useful insight, be careful not to rely solely on Google Analytics audience data – some of the data, such as age, gender and affinity categories – are sampled based on user activity within the Google platform, so we can't treat it as cold, hard facts. However, they are a really good starting point for you to overlay with other data points.
Google Analytics can also help you gain a better understanding of where your most relevant traffic is coming from, as well as the journey they take to convert.
This gives you an indication of where to prioritise budget moving forwards, for example, if most of your converting traffic first comes from Instagram, you'd want to prioritise more budget towards this channel.
Discover more through Facebook
If you have a Facebook business page, you'll find Facebook Audience Insights within the Facebook Ads Manager. This will give you an overview of your audiences as well as their interaction with your content on Facebook.
If you choose the option to look at the audience across Facebook as a whole, this will help you to determine the reach you could be getting with your content and understand whether you're using the right messaging and targeting options.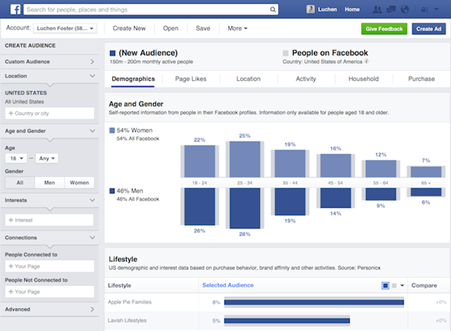 You can narrow the audience down by specific demographics, for example the interests they have, which locations they're in (which is really useful if you have physical shops, or you only deliver to certain locations).
Once you've chosen the demographics of your target audience, Facebook will show you the size of this audience and if you click on Page Likes and Top Categories, you can see what else this audience is interested in.
By exploring the Facebook pages of the businesses they like and follow, this can give you a bit of creative steer on what kind of post format and messaging works best to engage your target audience, so make a list of any commonalities.
Use insight tools
Google's Find My Audience tool – https://www.thinkwithgoogle.com/feature/findmyaudience/ – is designed for audiences on YouTube, but it can give you some really good insights as to what your audience might be interested in, even if you're not planning to reach them on this channel.
The Office for National Statistics is also a good place to delve into particular demographics in the UK, especially if you're wanting to target specific locations and want to learn more about the people living in that area.
Google Trends is always a good tool to use to give you more insight into what your audience is currently searching for. This is especially useful when it comes to creating a content strategy, as you can see what type of questions are being asked around a particular subject, giving you a steer on creating valuable content to answer them.
Through this, you can also look at how often your competitors' products or services are being searched, as well as related queries around them. For example, if you search "Cornwall holiday", it'll give you a list of related topics and queries, giving you an indication of what content you could be producing to be valuable to this audience:

Place a LinkedIn tag on your site
This is particularly useful for B2B companies but can be helpful for B2C too. If you place a LinkedIn insight tag on your site, you'll be able to uncover a wealth of details about the audience visiting your site.
Tying back to their LinkedIn profiles, you'll be able to find out job titles, industries, locations, seniority etc.
Your own research
Don't forget that within your company you'll have access to a lot of useful insight too, sit down with your sales team or customer services team if applicable, as these are the people who speak with your customers daily and will have a deep understanding of what they're like.
When do the sales team have most success with customers – through what means of communication? With what messaging? What resonates really well with them? What are the best times of the day to reach them? What features or benefits of your product or service appeals to them most?
Also don't forget that it's ok to speak to existing customers yourself, you could send a survey to a select few to ask them what they like about your product or service, what challenges they had with purchasing, how they found the buying process. You could also ask them questions outside of this, including what interests they have, what publications they read, what social channels they like using and for what purpose.
Consider psychographics
Audience demographics are really useful to understand the basics about your audience, but psychographics will help you build a much more detailed picture of the people you're targeting and will be imperative to creating your marketing messaging.
Psychographic data includes things like a person's challenges, their desires, their life goals, their likes and dislikes, their fears, their buying behaviours, their beliefs, their interests. You don't need all of this, but you do need enough to understand what might spur them on to take an action, whether that's clicking your phone number to give you a call or clicking through to a product page.
You can bring together a lot of this information through speaking to your customers direct and tracking their online journeys on Google Analytics.
Part 2 next week…
In part 2, we'll show you how to use all of this information you've gathered to create personas and how you can activate these to start reaching your audience.
If you need any support on gathering and analysing the above data about your audience, get in touch for a chat with our team.
Felicity is Wolfenden's Marketing Director, setting the strategy for our brand, marketing activity and new business.
Latest Insights From The Team.
Explore our team's latest thoughts and actionable advice from our blog to support your digital marketing strategies.