Competing with OTAs: 10 steps to boost direct bookings to your hotel
Now is a more important time than ever for hotels to push for direct bookings and make more revenue per booking than they might have done previously. One of the biggest challenges in this, is the dominance of online travel agents (i.e. booking.com, Expedia, hotels.com) which can take hefty commission fees for bookings.
We've covered the 10 steps we think are imperative to boosting your direct bookings as well as supporting your overall online strategy, from our years of experience working with hoteliers to drive online success.
To start off, if you're running PPC campaigns, you can get an idea of which online travel agents (OTAs) you're up against by looking at your auction insights. Metrics such as overlap rate and position above rate will tell you how often you appear for the same search alongside another advertiser, and how often they appear above you.
With search demand having increased for holidays in the UK, let's take a look at the 10 steps you can take to start boosting your direct bookings.
1. Tailor your PPC ads as much as possible
OTAs will likely be bidding on your hotel name so they appear top of the search results and receive the majority of traffic for that search, but they'll only display a fairly generic ad listing – you can make your ads really bespoke to specific searches, using ad extensions to make your ad more appealing and taking up more space on the page.
Take a look at some of the ad extensions you could use:
Sitelink extensions: By adding sitelinks to your ads, you can advertise additional services that you think could be useful to what the user has searched for. For example, you might have a Weddings & Events service, or a restaurant, or a spa – the OTAs won't put this information in their ads so you have the chance to showcase more of what you offer, giving users the option to click through straight from the ad.
You can see this in the example for The Grand Hotel in York below, as well as giving the user more information, the sitelinks take up more space on the page, pushing the OTA listing down even further.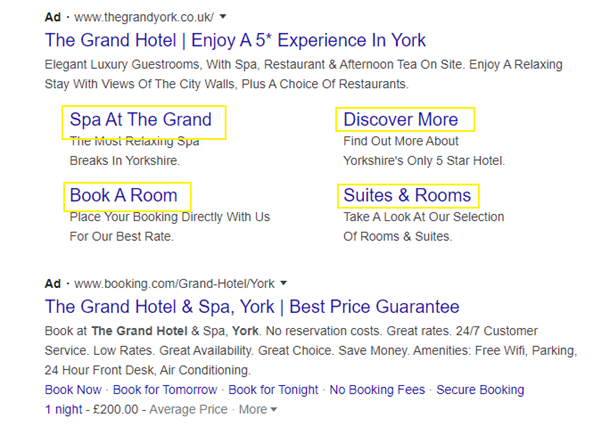 Call extensions: Add your phone number as a call extension so that users can call you direct from the results, again, these won't feature on the OTAs ads, but this is a really useful feature for mobile visitors.
Location extensions: Make sure you have a Google My Business account, so then your hotel's location on Google Maps will show when searched, as well as showing for users who search within a specific proximity to your hotel.
Price extensions: One of the main reasons people book through OTAs is the perception that they offer cheaper prices, use price extensions in your PPC ads to display your price – even if the user does end up clicking through to the OTA, they'll have seen your price straight away and if it's cheaper, come back to you.
2. Own searches beyond 'hotel'
The OTAs are leading when it comes to hotel bookings, but they don't know what else you offer – so if you have other services like a golf course, conference venue, wedding venue, restaurant etc. – this is where you can own the rankings, both organic and paid.
Do some keyword research to find what people are searching for around these services and use this to frame your content strategy, as well as your ad campaigns. Coupled with a stay as well, these bookings are likely to have a higher value, too.

3. Utilise Google Hotel Ads
By linking a Google Hotel Centre account to your existing Google Ads account, you can bid for dynamic ads when a user searches for a hotel on Google, within Google Map or using Google Assistant.
By plugging in your hotel locations, a price feed, and your landing pages; you can attract travellers who are looking for a hotel in particular areas. Users will be able to book through your landing page or directly through Google, and you can allow these to appear globally in every major language and currency. You can also set these campaigns to charge you only when a user books your hotel.
4. Incentivise booking direct
OTAs are trusted by most users, they'll need a reason to come to you direct – and often, this will be down to price. Can you offer a discount for booking direct? Or can you offer a complimentary or discounted breakfast, WiFi access, round of golf etc.? If you can, make sure this is visibly communicated within your organic and paid listings.
And just as importantly, once you've attracted users to your site to book direct – make it easy for them; don't give them a reason to return to search and choose to book with an OTA. Make sure it's quick and simple to see availability, package rates and enter payment information. Make sure this journey is mobile-friendly too – 60% of searches for destination information come from mobile devices.
5. Encourage repeat custom
The most important element here is your customer data – with this, you can segment and tailor your marketing efforts. For example, if you know people have booked with you for a spa day – they might have been booking for a special occasion like a birthday, so be sure to target them a few months before the same time next year with an offer to rebook.
You might also have customers who have travelled for business trips – send them bespoke offers that their company can use to book direct with you. If a couple have stayed for a honeymoon, target them with an offer to come back for their first anniversary. All of this information can be easily managed and as long as you're offering a great experience when they get there, you should have no problem encouraging repeat custom.
Don't forget that it's often far less expensive to attract repeat guests, so you could also look to introduce a loyalty scheme to encourage bookings time and time again. Frequent guests are also more likely to spend on your additional services too – such as the gym, spa, restaurant.
6. Reach potential customers elsewhere
OTAs might dominate the search results – but that's not the only place you can be visible to potential travellers. Delve into who your target customers are and work out where they spend their time – are they likely to read a local newspaper? A lifestyle magazine? Do they frequently use Facebook when they're commuting to work?
Armed with this information, you can target users on social channels with engaging ads at specific times of the day in specific locations with offers to book direct. With an informed PR & content strategy, you can aim for coverage in the publications you know they'll read.
7. Remarket to visitors
One of the most powerful tactics is remarketing to visitors who have been to your site but not yet booked; given these users have a strong intent to book your hotel.
Based on what pages users have been browsing, you can serve bespoke ads to them to encourage them to come back and book. For example, perhaps a user has been looking at your spa, and then left your site, you can serve this user a specific spa-related offer to come back and book.
Using Remarketing Lists for Search Ads (RLSA) will help you target users who have visited your site, left, and then in the future searched for another relevant term. As booking a hotel is usually a considered purchase whereby the traveller may research a few options over a period of time, this is a really useful feature to use to keep your hotel at the forefront of users' minds during that consideration phase, minimising the chance of losing out to an OTA.
8. Try Facebook advertising
Facebook has some great features to help you show off your hotel as well as be really specific about who you're targeting. For example, perhaps your hotel is in a walking hotspot, you can target users who have interests in the outdoors, country, walking, and tailor the ad creative to suit this, e.g. "Book your next walk in our country retreat".
Facebook carousel ads allow you to combine 3-5 ads into a single scrollable ad unit; making them really well suited to the travel sector as they're so visual. You can show off multiple areas of your hotel, including your room, food, swimming pool etc.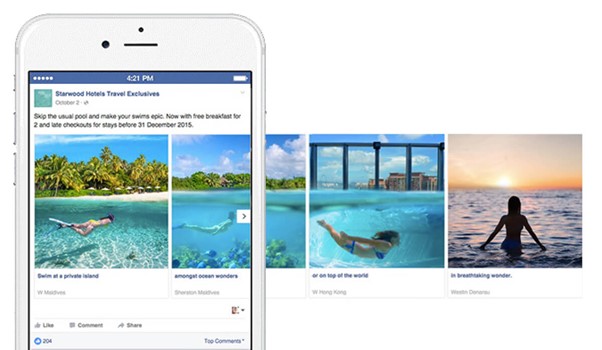 Similarly, video ads are really effective when you've got stunning scenery or beautiful interiors to show off. Facebook also offers specific targeting options just for the travel industry – meaning you can target tourists with a particular income level, travel dates and travel intent.
9. Bid on your own brand name
If you're spending a lot of time and budget on activity elsewhere to drive awareness of your brand, only for someone to search for it and click on an OTA, it's a good idea to bid on your brand name so you're there in those first few results.
You can remarket to visitors who have been to your site but not booked – sending them adverts with tailored messaging to increase the likelihood of them coming to you direct to book
Using the info you'll have gleaned above about which OTAs you're up against – you can bid on keywords that include your hotel name and that OTA name, e.g. "The Grand Hotel York Expedia".
To encourage return custom – you can use a Google feature called Customer Match – upload the email addresses of your customers and target them within a specific time period to encourage them to come back, perhaps offering them an incentive to book direct.
10. Understanding the value
It's easy to view OTAs quite negatively when you own a hotel because of the commission they take, but it's key to properly understand the value of customers booking your hotel through them or booking directly through your own site.
Analysing conversion rates through OTAs and your own site allows you to understand customer behaviours and where it's most profitable for you to place your efforts and budget. For example, if you're strongly pushing direct bookings and have a high CPA on your PPC campaigns which per booking, actually works out less profitable than the commission you're paying on an OTA booking, scale back your campaigns or just push budget into the best performing ones.
Remember as well that exposure on OTAs can still increase direct bookings, as lots of people use it a research tool, and if your OTA listing engages with people enough, your hotel will stick in their mind and they'll come direct to you when they're ready to book.
Discover the opportunity
Encouraging more direct bookings to your hotel doesn't have to be seen as a competition with the OTAs – delve into the value of bookings through all of your channels and work out where it's best to push your budget, then create targeting strategies for each customer journey.
The customers who book direct might show different behaviour to those who book through OTAs – armed with this information you can build ad creative which is more tailored to who's booking.
Work with OTAs as just another channel in your digital marketing strategy, do all you can to optimise your presence here and show an engaging listing.
Speak to us
We work with a variety of travel brands including The Grand Hotel York, Lakelovers, Lyme Bay Holidays and Sweetcombe Cottage Holidays to drive online bookings and raise their brand awareness to help them grow their businesses.
If you'd like a free audit to analyse your profitability from direct and OTA bookings to discover where you should be placing more focus in the next few months ahead, please get in touch with the team.
Felicity is Wolfenden's Marketing Director, setting the strategy for our brand, marketing activity and new business.
Latest Insights From The Team.
Explore our team's latest thoughts and actionable advice from our blog to support your digital marketing strategies.