How to create an effective social media strategy for hotels
It's fairly undisputed that with 4.55 billion users worldwide and an average daily usage of around 2 hours and 27 minutes per day, social media is a very important tool that can really aid a brand's marketing strategy and help them succeed.  But how can it support the awareness and success of a hotel?
At a minimum, social media can be a great way to interact with customers, and in turn build a loyal online community.  It is one of the simplest ways to open up the lines of communication with customers.
So, how can your hotel harness the power of social media? Well, it all starts with a killer strategy – consider these 5 top tips when reviewing or starting out your approach:
1. Consistency is key
This might be an obvious tip, but it is overlooked far too often.  If you want to build an online community and increase your engagement, then a consistent calendar is very important.
Algorithms reward consistency on social media platforms which leads to improved post reach, and ultimately higher engagement rates.
But don't scramble to create content at the last minute, always plan ahead.  At the start of the month check for any national days or events that your hotel can jump on, for example – National Wellbeing Week.
These holidays always provide great hooks, so it's worthwhile integrating them into your content, but only where appropriate.
As for quantity of posting, it's usually best practice to post a minimum of 3-4 times a week.  This will help to keep your channel active and your followers engaged.
If you have more to say, then absolutely include more posts into your content calendar, but don't post for the sake of posting – if it doesn't add value, then it isn't worth sharing!
Top Tip: Assign an in-house social person at every hotel location who can curate the content.  This can range from taking photos of hotel events to responding to messages from followers directly on your social media channels.  I would advise some basic social media training before letting them loose on your accounts.
2. Interact with your online audience
One of the biggest benefits of social media is the ability to create a loyal community and a big part of this is engaging in conversation.
If you want to build a loyal community, then it's very important to interact with users daily in comments, direct messages, and tagged mentions.  There will be a limit to how much you can respond to, especially of you get lots of activity, but setting aside some time every day to engage with your audience is pivotal to growing your audience.
By monitoring these messages, you can glean some really valuable insights into what customers do and don't like, from positive reports of specific aspects of the hotel and employees to issues they had that you can now resolve.
Whether the comments are good or bad you should always respond to and acknowledge your customer.
3. Define your content pillars
The famous phrase content is king is definitely one to live by on social media.  A hotel's profile is only ever as strong as their content, so it should always be carefully planned out.
Before jumping into social content creation, take a step back and think about what your followers want to see and how you want your brand to be portrayed on social media.
What type of content will engage both your current and target audiences?
Now define your content pillars; the recurring themes that enable a diversified content strategy.
You should only need four or five pillars to keep your content diversified and engaging to your audience.
It's important to remember that each content pillar should provide something of value to your customers, whether that's highlighting a hidden city attraction or hotel news, every post should have a clear purpose.
You should also look to include as much user-generated content as possible. It is useful and easy content for you and it helps you to interact with your customers.
Keep a close eye on your tagged posts to see if guests have shared any photos or videos from their hotel stay that you can reshare. But remember to always ask permission before you use any of their materials and credit the original owner within the post copy – it's just common courtesy.
Top Tip: Before you start defining your content pillars, conduct a competitor analysis to gain insights into what their social strategy is, if it's working, and if they are doing anything you particularly like or dislike.  If you can, monitor competitors on a monthly basis so you can identify any changes they make to their approach and assess if you also need to alter your strategy.
4. Incorporate video content
Since 2020, we have watched the rise of TikTok, predicating the evolution of all video content; and there are no signs of this slowing down.
Now that video has killed the photo star Instagram has rolled out "reels" to enable content creators to produce short-form video content on their platform, and there are talks of similar features coming to Facebook too.
Previously brands have avoided video content as it is a lot more time consuming to produce, but since TikTok it can realistically no longer be avoided.
Algorithms have started to favour video content as the engaging nature of videos encourage users to stop their scrolling and watch. This often results in increased reach and engagement on video posts over other formats.
There is also always the possibility that a video could go viral on a platform like TikTok, but this cannot be predicted, and you should not rely on viral content for your strategy.
The rise of video content provides an opportunity for hotels, especially boutique hotels, to show off their unique rooms, facilities, and personality.
Hotel staff getting involved in a fun TikTok trend can be a great, but easy, way of incorporating some video content and although they aren't a hotel, M&S and their TikTok accounts are a great example of this.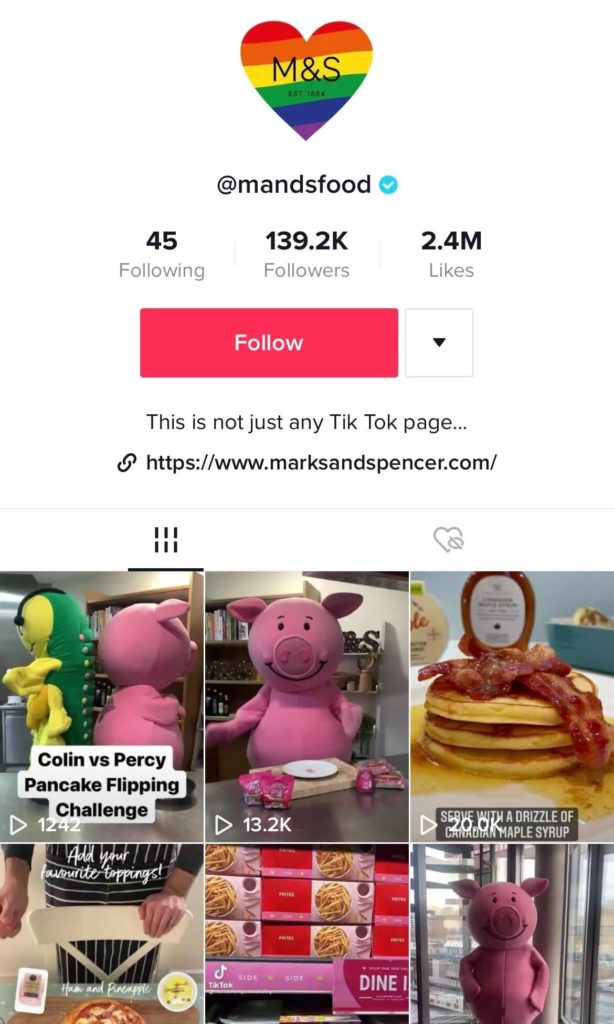 Individual stores also have TikTok accounts, and the M&S Romford store have become local celebrities with the account gaining over 68 thousand followers and 2 million likes – even Percy Pig is known to join in some of the dances.
If you don't have the capabilities to produce videos in house, it can be worth hiring a videographer to film some videos that can be altered and redistributed for various pieces of content but remember that some videos can really benefit from a lack of professional and polish.
On platforms like TikTok, users value authenticity and entertainment far more than production, so simple videos filmed and edited on a phone will still be good for your social media strategy.
5. Measure social performance
Another seemingly obvious tip, but 40% of businesses don't accurately track their social media ROI.
Although on the surface it can be difficult to track, social reporting tools can be a great way to delve into the effectiveness of your approach.  If you can't invest in a third-party tool, the analytics built into social media platforms for admins can still be extremely effective.
From an organic social perspective, engagement is key (likes, comments, and shares). High follower counts are great, but on if they are also engaging with your content.
Brand awareness (mentions and shares) is another vital metric as a high brand awareness will result in a greater post reach.
Although link clicks are not the main aim of organic social, this data can still provide useful information and having a Google Analytics account that links through to your website is a great way to measure this as you can see how many users come from social organic every month.  It also lets you delve deeper into customer behaviour i.e. how long users stay on a specific page.
A monthly review is the best way to give good insights into the top performing content and most importantly, what customers don't respond well to.
This information can be used to pivot your social strategy when necessary and in turn will help to deliver tangible results.
Conclusion
The most important things to remember when developing a social media strategy for your hotel are:
Consistency is key
Define content pillars before you start
Don't forget to listen to your audience
Incorporate video content (where possible)
Measure your social performance
If you put these tips into practice, you will start to notice growth in your social media presence, which is integral to any hotel's success.
The idea of social media as one of the most important tools in your digital kit is not a new one, but the power of this marketing channel continues to be overlooked.
Don't let your social media be the first thing to slip if you're struggling with your strategy: implement these tips and contact us if you need more help.
Latest Insights From The Team.
Explore our team's latest thoughts and actionable advice from our blog to support your digital marketing strategies.