How to create a successful content hub
If you work in the SEO or content space, you've probably heard about content hubs and how they can be a great way to improve the E-E-A-T of a site and push up organic rankings.
Creating a content hub is a great opportunity to target long-tail, informational keywords which might not be possible on other site pages, allowing you to target more research-based, educational or inspirational searchers and demonstrate your company's expertise and authority sooner into their journey.
By optimising your content further with keyword research, mapping keywords to each page and analysing the metrics in Google Analytics/Google Search Console, you can see which keywords users are searching for, if the UX journey on a page has been disrupted, and why a user is not going further down the funnel. Once you know this, you'll be able to take actions to boost user engagement and generate more leads.
What is a content hub?
Well, at its most basic, a content hub is a collection of articles that all centre on a specific topic with internal links to cluster content. This helps you provide more in-depth information around all the different aspects of a topic without overloading users with too much information at once.
The key difference between a content hub and a simple blog post, is that blogs tend to cover a wide range of topics while a content hub has an overall topic that all of the content relates back to – and this content can be in any form, from webinars to e-books, videos and podcasts or infographics.
What are the SEO benefits?
Now that we know what a content hub is, it's time to see just how helpful it can be to include in your SEO strategy.
Firstly, a content hub will simply make your content more easily accessible to both your audience when they're looking for information, and to search engines when they're crawling your site.
By consolidating information into the same place in a content hub, it also consolidates your authority, therefore improving your E-EAT.
This isn't the only benefit, though, as with a content hub you will be able to target more long-tail, informational queries that might not be possible through commercial pages. This can help to bring in more top-of-the-funnel users, especially when you populate your content hub with relevant information, such as product buying guides.
With the way search engines are frequently updating to ensure users are only being shown the most relevant information to their searches, creating a content hub is a great way of creating more opportunities for your site to rank as you'll begin to appear on not only searches with transactional intent, but also a range of search intents from informational to commercial too.
What are the different types of content hubs?
Hub and Spoke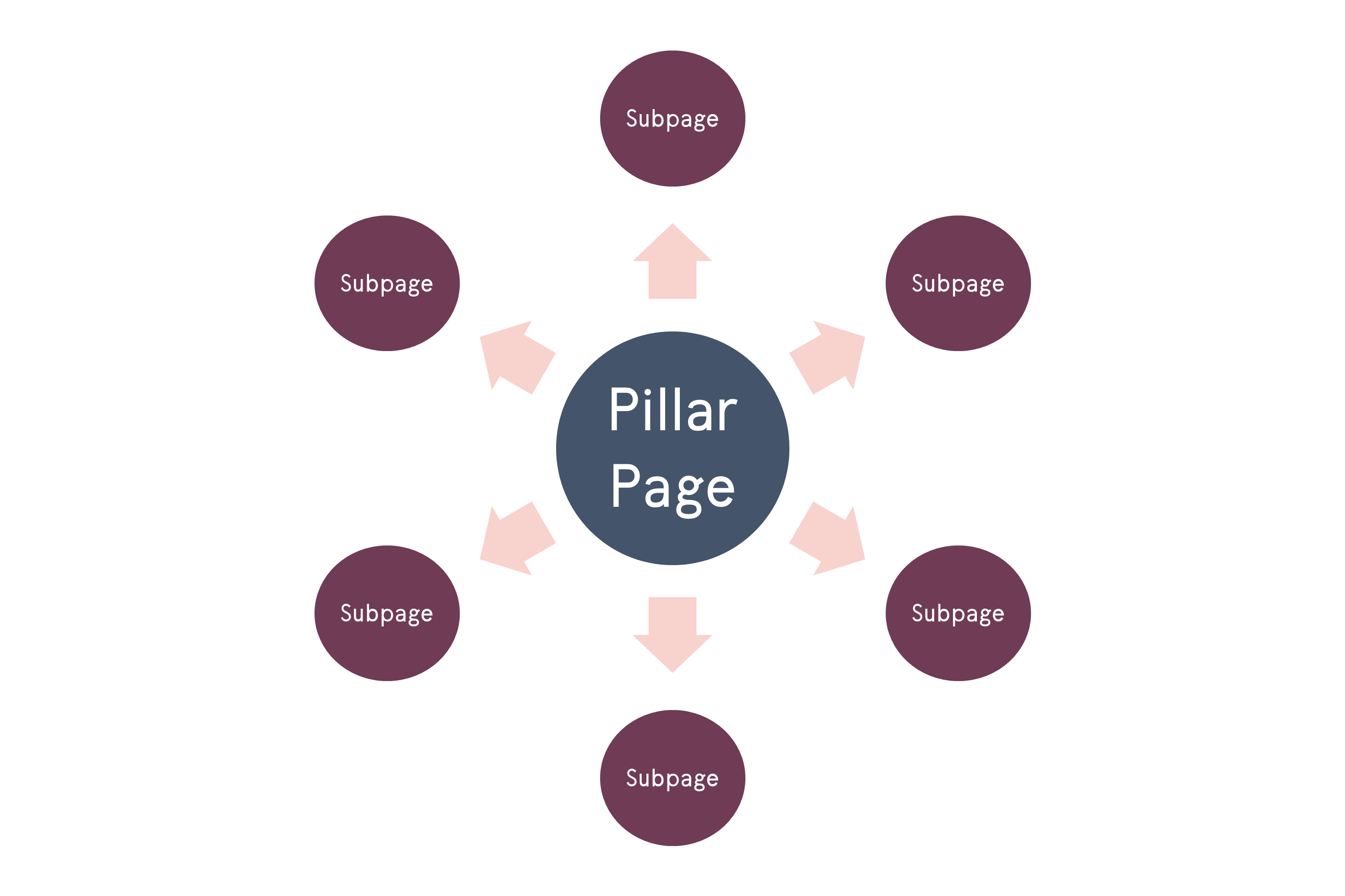 The most common structure for a content hub is the hub and spoke.
The 'hub' is the topic you want to rank higher for and create more authority for (pillar page), and then the 'spokes' are the specific pieces of content you create for that topic (subpages).
Content featured within the 'hub' section should be targeting top of the funnel users through high volume keywords and evergreen content. There is also the opportunity to link to key commercial pages or products within this section of the content hub.
The 'spoke' sections are supporting content which surround the overall topic. Here we can target long-tail informational queries relating to the main topic.
Content Library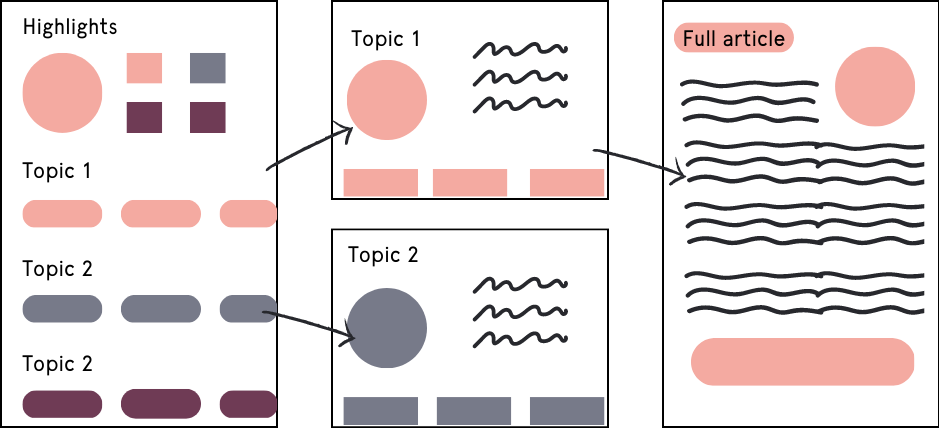 A content library will have an index page that houses all the topics and links to any relevant subtopic pages such as videos, articles, webinars and presentations.
Topic Gateway
A topic gateway is similar to blog category pages, however it has a main page of static content which gives an overview of the specific topic with internal links to evergreen content and dynamic links to any recently published fresh content on that specific topic.
Content database
Often used on SaaS websites, a content database houses multiple different topics and types of content and will include either a mini-IA (mini-informational architecture) or filters for the user to navigate with.
The 6 steps to creating a content hub
So, now we know what a content hub is, it's time to learn how to create one. There are a few simple steps and some important things to consider when you start:
1 Decide your topic.
Using keyword research and competitor analysis, decide what your overarching topic will be. You want to look out for topics that will drive traffic to your site and find niches where you will be able to compete and provide more information to users.
Remember, a content hub is a great place for informational and evergreen content, it's not necessarily the place to be pushing sales.
One of the tools that can be used to help you decide on your topic is SEMRush. Using a tool like this can be really useful in helping you to visualise the search volume and competition of potential topics and keywords, letting you make a more informed decision.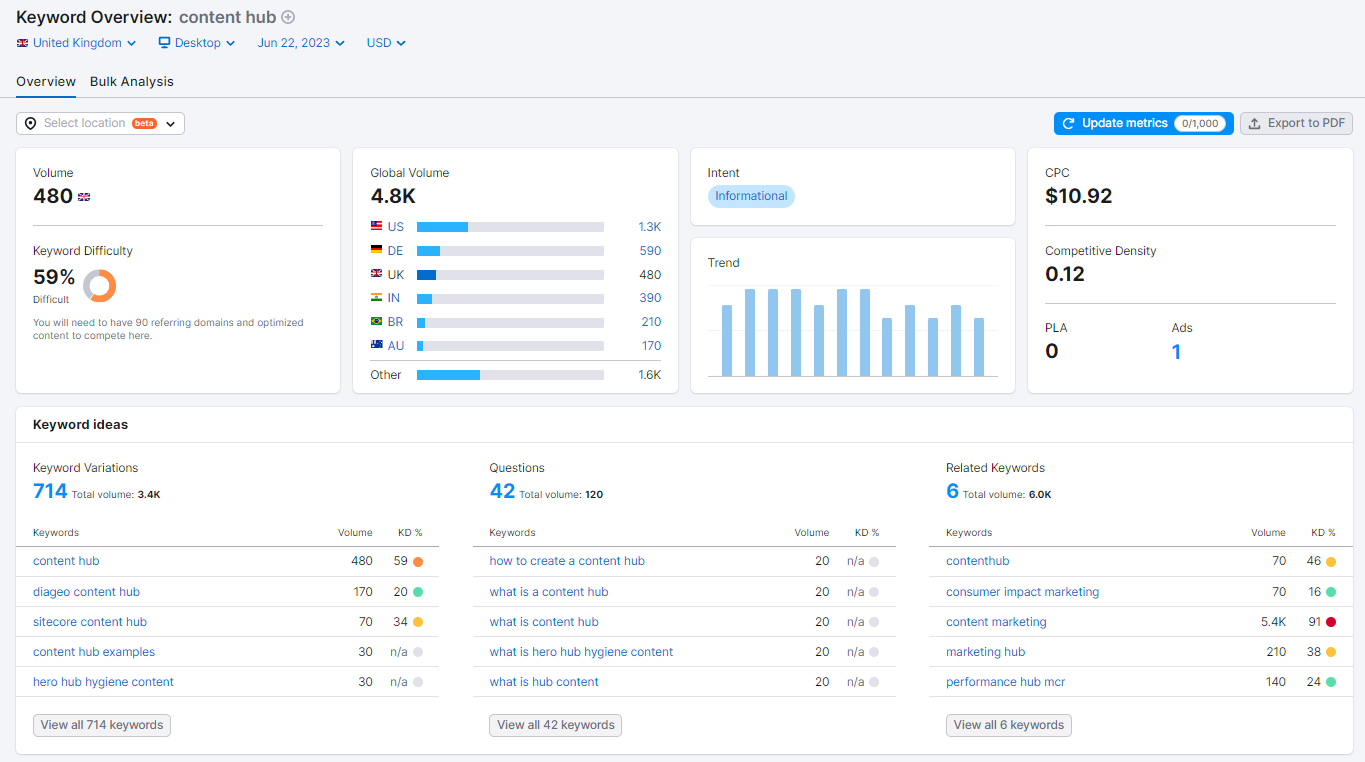 2 Analyse your existing content.
Audit the existing content on your site and make sure you're not going to run the risk of cannibalising keywords.
This can also be a great opportunity to check which of your blog posts are currently performing well and could fit into your new content hub.
There are a few things to look out for when performing an audit like this in advance of creating your content hub. It will make your life immeasurably easier if you can find and recycle existing content on your site that targets the appropriate keywords that you will be targeting in your new content hub.
You should also be on the lookout for content that and be refreshed or repurposed into a new piece, reducing your workload once the content hub is live.
If you find existing content pieces that already have strong backlink profiles, that are for the topic you're creating a content hub for, then you've struck gold.
3 Decide the architecture of your hub.
Now you get to decide how you're going to structure your content hub and the internal linking system.
When it comes to the internal linking system, best practise is to create a logical URL structure that incorporates categories, e.g.
/content-hub-name/category/article-name/
It's a good idea to decide this before you start to create your content to ensure everything stays easy to follow and it doesn't become a maze of messy links that elongate the user journey and negatively impact the UX.
When you are deciding which content hub layout is best for your site, it can be a good idea to mock up a wireframe of what it will look like so that you can visualise it, and so that when you eventually send it to a developer, they will have an easier time understanding exactly what you want.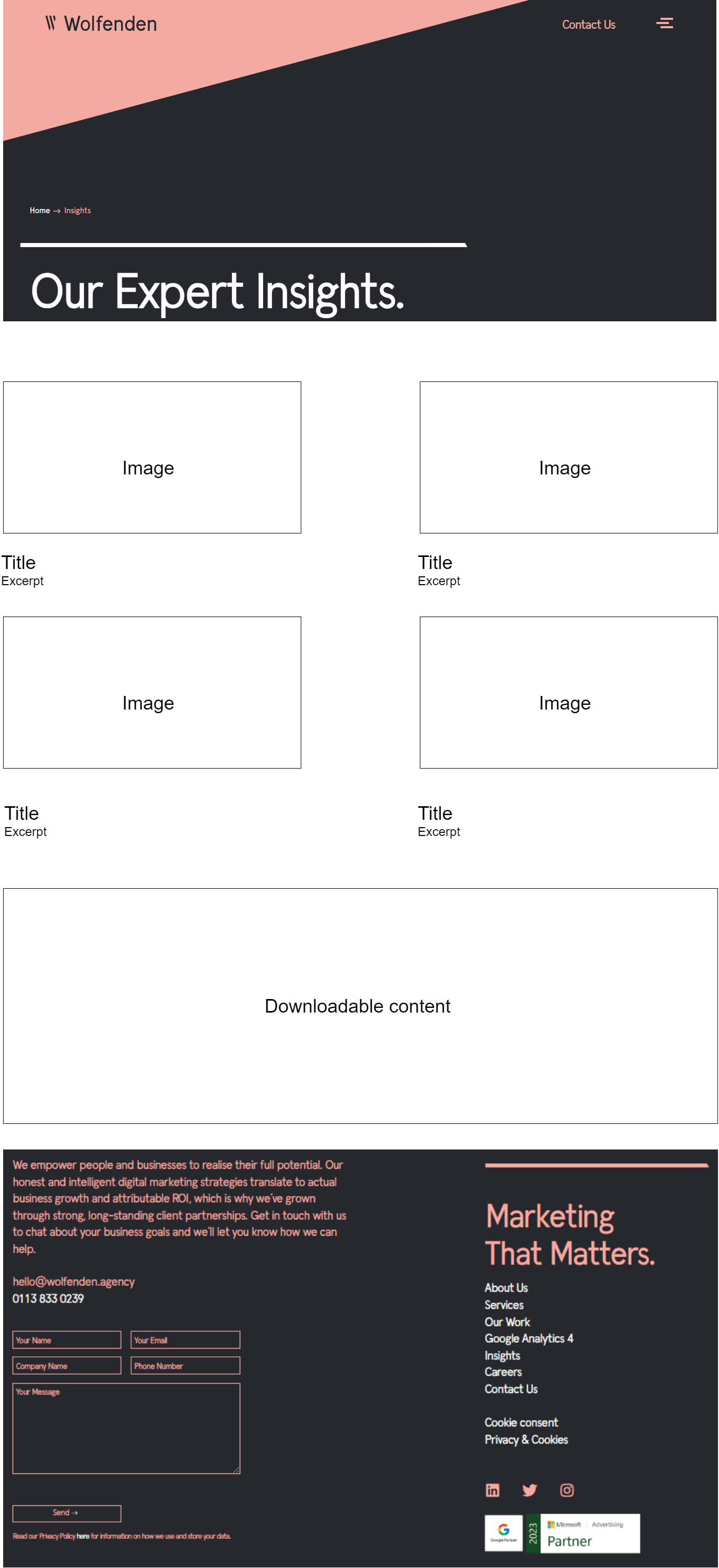 Once you have this you can think about where your content hub will sit on the rest of your site and how it will fit into the existing internal linking. This becomes particularly significant to consider if there is an existing blog section with content you will be moving over to the content hub.
In this case, you will want to migrate this content over to your new content hub, but you need to remember that the URLs will change, so it might not be as simple as drag and dropping the pages to a new location. Make sure that any links to the old content are updated where you can.
For a content hub to be a true asset to your site, you need to ensure there is a permanent link to your content hub somewhere on every page. This should usually be within your navigational tool, but bear in mind you don't want your navigation to look too crowded. If you are worried about a messy nav, then it's fine to put the permanent link to your content hub in the footer of your site.
Finally, remember to always link to the relevant content within your hub from your commercial pages. This not only improves your crawlability, but it can help your authority with customers as have all the information they need readily available without having to leave your site.
4 Create your content calendar
Now that your plan is starting to form you can start thinking about the content creation. With any content on site, you will want to have a timeline that you're following so that everything goes up in order and your UX isn't impacted by a necessary piece of content that hasn't been uploaded yet.
You also don't want to upload your entire content hub all at once, so putting each piece into a calendar will help give structure to your plan and ensure everyone stays on the same page.
To make sure you're including all the information you need for your content plan – from the headers to the meta description, you can download our template for free below.
5 Create Content
Once you have a calendar, you know which pieces of content to prioritise, so it's now as simple as creating it – this is mean to be the easy bit, right?
6 Optimisations
Finally, you need to ensure the pages are optimised for search engines.
This includes creating a separate XML sitemap that is solely for the content hub to ensure search engines know which are the essential pages and can crawl your site effectively.
Alongside an XML sitemap, you'll also need to consider any on-page optimisations you can do to ensure the content is properly categorised by search engines.
The key optimisations to remember are: title tags, meta descriptions, H1s (and all other headings), and finally targeting the relevant keywords. If you've used our content calendar template, then you should have all of this information already.
If you need any help with creating a content hub for your brand then make sure to get in contact and we can get a strategy in place for you.
Latest Insights From The Team.
Explore our team's latest thoughts and actionable advice from our blog to support your digital marketing strategies.