A year in social media: 2021
I don't have to tell you that 2021 has been a year of great change, and that has certainly extended to social media.  The Great TikTok Boom of 2020 only exploding further as national lockdowns continued into 2021, the meteoric rise of this platform does not seem to be slowing down even in a post-pandemic world.
This boom has left the old social media giants trembling, as they were sent into a frenzy trying to compete with the likes of TikTok. YouTube created "Shorts", Instagram started putting more emphasis on their "Reels" which came out in 2020, and now Facebook are testing out their own version of "Reels" with American audiences.
In this post, I discuss what I consider to be the five biggest updates of 2021 and rate them out of 10 based on what the features are and how useful they can be.
Rating: 8/10
In October 2021 Instagram swapped it's beloved "swipe up" feature for link stickers instead.  To add a link, you simply head to the sticker tool and tap the "Link" sticker and insert your URL.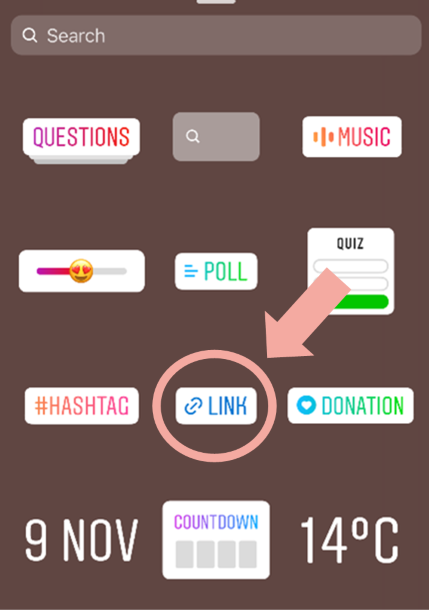 But why the change, and what's the big difference?
Well, Link Stickers can be used by everyone! The swipe up feature was previously only available to verified accounts or those with 10,000 followers or more.
This is fantastic news for smaller businesses with fewer than 10,000 followers as they can now drive followers directly to their website using Instagram Stories.  Before this update the only visible link would have been in the company bio.
Rating: 9/10
In April this year, TikTok launched a new VR music effect feature which uses real-time beat tracking resulting in visual movements and transitions that move to the beat of any song.
Music Visualiser is the first ever music creative effect for the platform and was launched alongside other new effects including delayed beats, text beats, and mirror beats.
TikTok are known for pushing the boat out when it comes to interactivity and product experience and constantly introduce new ideas so the platform remains fresh and fun to use, therefore keeping users and creators coming back for more.
This feature really pushes the boundaries of what content creators can achieve with simple in-app functions, making their content more professional, interesting and impressive.
Rating: 7/10
Organising an Instagram Live can be tricky, especially when your audience don't have frequent reminders. But Instagram has made going Live more convenient for everyone involved with Live Stream Scheduling.
You can now schedule a time that you want to go live, with push notifications sent to both you and your followers. This will send reminders the day before, 15 minutes before, and when the live stream is just about the start.
On the same day this feature was launched, Instagram also launched a "Live Practice" feature which enables content creators to check lighting, positioning, sound quality, and any other variables before you go Live.
Both features have practical uses for live streaming. Content creators can now do a dry-run and check the appearance and aesthetics of the video, and more effectively promote and market to their online communities.
If subscribers are already aware of an upcoming Live, and get reminders before the event then they are far more likely to tune in.
Rating: 8/10
In March, TikTok finally launched its "playlists" feature which enables users to organise their videos into specific playlists.
However, there are certain restrictions. This feature is only available for creator and business accounts and videos must be public to be included in a playlist. What's more, each video can only be in one playlist at a time.
Despite these limitations, this feature is extremely beneficial for content creators for several reasons. Primarily, however, it increases the reach of posts as similar content is grouped together in one place, and therefore makes videos easier to find, meaning more views and engagement.
Rating: 10/10
This feature was only launched on December 7th, but it had been in testing  previous to that and it shows such great promise that I couldn't resist including it in the round-up!
Instagram is currently testing a new user wellbeing option called "Take a Break" which encourages users to schedule in breaks from their endless scrolling, and even suggests things they could be doing to benefit their mental health during the break.
Some early examples of their recommendations are things like 'take a few deep breaths', 'write down what you're thinking', 'listen to your favourite song', or 'do something on your to-do list'.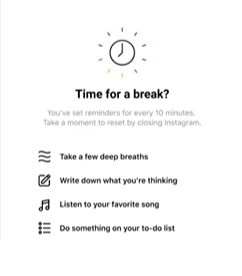 Although both Instagram and Facebook already offered time limit reminders to encourage users to take breaks from social media, this feature goes further still and is a clear extension of their commitment to user wellbeing.
There have been a lot of new additions to the world of social media in 2021, and it will be exciting to see what 2022 brings.  If you have any questions about the best ways to utilise these new features for your business, get in touch with our Leeds agency.
Latest Insights From The Team.
Explore our team's latest thoughts and actionable advice from our blog to support your digital marketing strategies.