4 tips to Boost Your Instagram growth
There are around one billion monthly active users on Instagram worldwide, so even though TikTok has seen a meteoric rise in popularity we shouldn't forget about the OG picture (and now video) sharing site.
It is still one of the most influential social media platforms and can drive profitable traffic to your business if managed in the right way.
Predominantly, strong content-driven approaches supported by influencer collaborations are successful on Instagram, however there are other factors at play too, such as algorithm changes and community management.
So, here are our top tips for organic growth on this valuable channel:
1. Make the most of video content
In July 2021, Instagram announced it is no longer a photo-sharing app and will begin to prioritise video content to compete with the popularity of other platforms, such as TikTok.
Many brands have already started to alter their content strategies to be more inclusive of video content, with Reels, IGTVs, and video stories becoming increasingly popular, but this strategy is becoming more and more vital.
It's important that brands work video into their content strategy going forwards, as it will benefit impressions and engagement, which is one very effective method of driving business growth.
Historically, photos have performed better than videos on Instagram in terms of engagement.  However, due to new and expected algorithm changes, videos are now growing faster than photos, reaching more people and achieving a high level of engagement.
Making video content can seem intimidating at first, but you don't need to have a fancy expensive DSLR and tons of editing software, your regular phone camera is high enough quality and there are plenty of free video editing apps that you can use (we recently discovered that even Microsoft PowerPoint can be used to make fun animations if you export it into an MP4 file).
2. Build an online community, and be active in it
Community management is the process of building an authentic and engaged audience on social.  83% of people like it when brands respond to questions and messages online, so when building your community, you should always monitor channels for any comments or messages.
Interacting with active users can be a great way to build a loyal online community and improve brand sentiment. What's more, the Instagram algorithm likes it when you interact with people online, which could mean better engagement for your brand.
Additionally, if you listen to your community then you will often receive constructive feedback that you may have missed otherwise.
Tone of voice (TOV) is also very important when you engage with your community and can be an effective tool for emphasising brand identity.
Yorkshire Tea is a good example of how to do it best, with their quick and witty responses to comments, often using slang from Yorkshire; they manage to both engage with their community and emphasise their brand personality.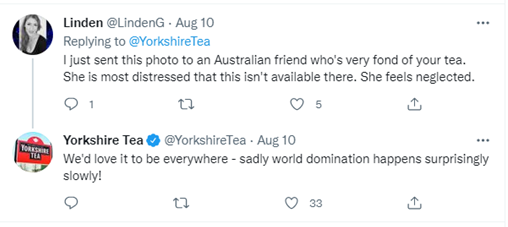 3. Make sure to be frequent and consistent with your posting
Instagram has around 200 million daily active users, therefore it's best practice to keep to a regular posting schedule, at around three to four times per week.
Social scheduling and reporting tools can provide good insights into the 'best times to post' based on user engagement (when users are online and engaging with content), but good old-fashioned hit-and-miss trials are sometimes needed too to find the ideal time.
Using this data to influence when content is scheduled can help increase post reach, and social engagement.  Even the best content can flop if it's posted at the wrong time of the day, and it will become hidden as it's pushed down the timeline.
'Best times to post' will vary brand to brand and is heavily dependent on your individual community.  So, when starting out it is a good idea to trial various times and analyse post performance to work out just when you audience is online and most engaged.
4. Don't forget about Influencers & Brand Advocates
Influencers are a fantastic way to increase brand awareness and reach new potential customers.  But when it comes to influencer marketing, it's very important to partner with accounts that are a good fit for your brand.
Although large influencers are a highly attractive commodity due to their massive reach and insane follower counts, micro-influencers shouldn't be overlooked.  Micro-influencers are known for having a more niche following, and therefore a more loyal fanbase with higher trust in product recommendations and brand partnerships.
Influencer collaborations are a fantastic way to increase your brand awareness and following and drive profitable website traffic. You can also turn influencers into brand advocates, with consistent collaborations. If they constantly rave about your brand and products, it builds even more loyalty and trust within their community, which in turn, benefits your online presence.
Although some of these tips may seem like they should be obvious and easy to do, it can be quite taxing to manage social media activity alongside the other regular tasks of running a business, and you would be surprised at how often online communities can fall by the wayside.  If you need any help in managing your social media marketing, get in touch.
Latest Insights From The Team.
Explore our team's latest thoughts and actionable advice from our blog to support your digital marketing strategies.